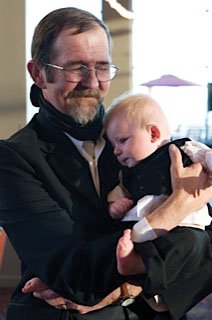 John Lloyd Hull
October 25, 1955 - May 19, 2012
John Lloyd Hull was born Oct. 25, 1955, in Riverton, Wyo., to Betty and Lloyd Hull. His older sister, Juanita Self, lives in Blackwell, Okla., and his older brother, Chuck Hull, lives in Lovell, Wyo.
John grew up in Riverton on the Wind River Indian Reservation. While in school, he excelled in both football and wrestling, placing first in state tournaments. He also was active in bowling and won several state trophies during his high school years. John participated in the National Rifle Association as a sharp shooter and worked his way up to a top-notch marksman. He shared his skills by teaching hunter safety classes.
John joined the Air Force in 1974 during his senior year of high school. After aircraft technical school, he was deployed to Vietnam, initially as an aircraft maintenance specialist and eventually to the position of flight engineer. He was part of an Air Force rescue squadron that received several awards for special rescue missions performed during the Vietnam War. John was honorably discharged as a sergeant in December 1975.
John returned to Riverton for a short time following his military service. He was married briefly to his first wife, Wendy. Seeking other opportunities, John moved to Denver but found the crowded city life wasn't to his liking. Following a visit to Glenwood Springs, he decided mountain living was more his style. In 1979, John made the move, eventually buying a trailer home in Apple Tree Park in New Castle, about 25 miles from Glenwood Springs.
In October 1980, he met his second wife, Debbie Gregory, whom he married in June 1982. John and Debbie moved to Silt, where they had their first child, Diane Jeannett, on Jan. 3, 1985. In 1987, John and Debbie moved to Rifle, where they lived for another three years before the birth of their second child, Christopher John, on Jan. 29, 1990. In September 1990, John and Deb moved their family to Hayden.
John had a stellar career as an electrician and, after more than 30 years in the trade, was very knowledgeable in all types of electrical work. The last 10 years of his life were spent working at The Steamboat Grand as an electrician and maintenance technician. He loved his job and was good friends with his co-workers. John stopped working Feb. 3, 2012, to go on short-term disability because of cancer and the ill effects of chemotherapy treatments.
John passed away May 19, 2012, after his long battle with cancer. He leaves behind his wife, Debbie; and children, Diane and Chris, and stepson, Brent, of Parker. John had many friends and acquaintances throughout the Yampa Valley and will be sadly missed by everyone.
A memorial service was held May 31, 2012, at The Steamboat Grand. In lieu of flowers, donations are greatly appreciated to help with medical expenses. Send to the John Hull Cancer Fund, c/o Bank of the West, Steamboat Springs branch, P.O. Box 772948, Steamboat Springs, CO 80477.