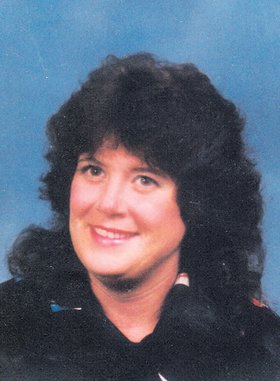 Jennie Lee Mullally
June 2, 1953 - July 3, 2012
Jennie Lee (Clapper) Mullally was born June 2, 1953, to Irvin "Spec" Clapper and Josephine "Josie" (Davis) Clapper at Pioneers Hospital. Following a 17-year battle with cancer, she left her earthly home from the same hospital July 3, 2012, at age 59.
Jennie was raised on the family ranch on the mesa south of Meeker and received her education in the Meeker schools. She was a talented musician, playing the French horn in the junior high and high school bands. Applying her natural gift for playing by ear, she frequently entertained family and friends by playing the piano and accordion.
From the time she was a small child, her daddy woke her every morning with a "Hey, Smiley," and she never failed to raise her sleepy little head wearing a smile full of sunshine. Throughout her life, that smile and her big brown eyes were her trademark.
Jennie's ambition and work ethic were admirable. For much of her adult life, she held two jobs to provide for herself and her children. Her last job was with Albertsons grocery store in Grand Junction. She had advanced to a managerial position, and when her illness began to affect her performance, her employers held her job for months, hoping she again would become able to return to the staff. A special benefit Jennie enjoyed was seeing people from Meeker who chose to shop at Albertsons when they were in Grand Junction.
During her life, Jennie lived and worked in Steamboat Springs; Reno, Nev.; Los Angeles; Wilmington, Del.; Key West and Lakeland, Fla.; and Grand Junction.
Jennie was a mother, a grandmother, a sister, a daughter, an aunt, a teacher and a friend to so many. There was not a heart she didn't bless. She is survived by her children Vincent Mullally and Josephine Mullally; daughter-in-law Rita Mullally; grandchildren Kiera and Ashlyn Mullally; sisters Vera (Earl) Lyons, Vina Klahn and Kathy (Darin) Floyd; sister-in-law Sharon Clapper; brother-in-law Jim Riegel; and her beloved nieces, nephews and many, many friends. Jennie was preceded in death by her parents, Spec and Josie Clapper; sister Debbie Riegel; and brothers Gene and Bruce Clapper.
Services for Jennie will be held at 10 a.m. Aug. 16, 2012, by Pastor Johnny Arrington at the Meeker Methodist Church. Donations in her name can be sent to Grant Mortuary and Crematory, 621 Yampa Ave., Craig, CO 81625.