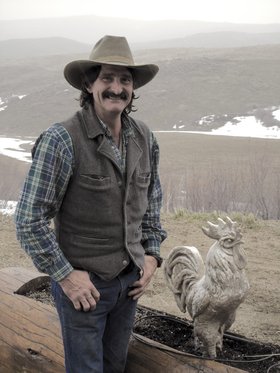 John Robert Main
June 8, 1960 - June 21, 2012
John Robert Main, 52, of Clark, died June 21, 2012, in an all-terrain vehicle accident near his home.
John was born June 8, 1960. He was the son of Meredith and Robert Main. John grew up in Saginaw, Mich., and graduated from Michigan State University with a bachelor's in ranch management and an associate degree in the agriculture electrical program. He moved to Clark in 1986 and married Kathy Winograsky in 1988. She died in 2008.
John owned Delta Electric, now JR Main Electric. He was a fine bluegrass/country musician who played banjo and guitar. He was a self-taught sculptor with many other artistic talents. John loved the outdoors and was a hunter, horseman, guide and mountain man. He loved people and he loved Colorado. 
Besides his parents, he leaves a son, John Garrett; fiancee Stephanie Pachorek and her son, Jake Stees; two brothers, David Main and Tom (Trish) Main; two step-daughters, Jamie (Chris) Carbone and Kate (Gary) Warchol; three step-grandchildren; aunts; uncles; nieces; nephews; sisters- and brothers-in-law; and a long list of good friends. 
A celebration of John's life was held June 26, 2012, at the lower Glen Eden Resort. At his request, cremation has taken place. Memorials may be made to a charity of choice.