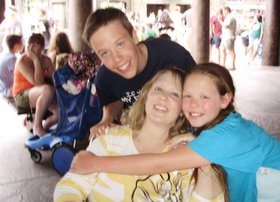 Janet (Hicks) Russell
Steamboat Springs
September 25, 1969 - June 12, 2012
Janet Lynn (Hicks) Russell died June 12, 2012, at Presbyterian/St. Luke's Medical Center in Denver. She was 42.
Janet was born Sept 25, 1969, and was a lifelong resident of Steamboat Springs. She was an honor student at Steamboat Springs Middle School and Steamboat Springs High School, from which she graduated in 1988. She sang in the middle school choir and played flute in the high school band.
During junior high school, high school and college, Janet spent her summers working for Ron and Pat Feeley at the Sears store in downtown Steamboat Springs.
She attended Colorado College from 1988 to 1992 and earned a degree in economics. She worked briefly as a teller at Community First Bank before being hired to manage the Routt Schools Federal Credit Union, where she worked for the past 19 years.
She married John F. Russell on May 15, 1993, and together the couple had two children, Rylan, 14, and Sloan, 10.
Janet loved her entire family and enjoyed traveling with them to Las Vegas, Disneyland and Disney World. She had planned to take a weeklong cruise with her family before being diagnosed with colon cancer in April. Her children, father and aunt made the trip, while she was cared for at home by her husband and mother.
Janet was the self-proclaimed bingo queen and loved traveling to Las Vegas twice a year, where she rarely missed a session. She also enjoyed hanging out with friends and family on the weekends and holidays playing board and card games.
But her favorite place may have been Disneyland and Disney World, where she would put aside her inherent fear of roller coasters to ride Space Mountain and Big Thunder Mountain with her children. It truly was the happiest place on Earth for the Hicks and Russell families.
Christmas was Janet's favorite time of year and she proved it by listening to holiday music from the day after Halloween until Jan. 2, and she always made sure that her home was decked out for the holidays.
She is survived by her husband, John; her son, Rylan; her daughter, Sloan; her mother, Beth; her father, Wendy; her sister, Katrina, all of Steamboat Springs; and her brother, Steve, of Norman, Okla.
Janet was a wonderful daughter, sister and wife, but her love reached well beyond the walls of her home and she will be missed by her many friends in the Steamboat Springs community where she grew up.
In lieu of flowers, donations can be made to the Janet Russell Memorial Fund at Bank of the West in Steamboat Springs.