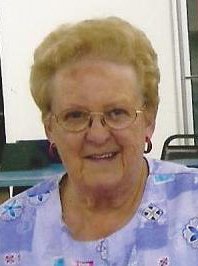 Mary E. Kleinschmidt
August 8, 1930 - March 20, 2012
Mary E. Kleinschmidt, formerly of Steamboat Springs, passed away March 20, 2012, at her daughter's home in Salt Lake City because of complications with breast cancer. She was 81.
Mary was born to John and Ethel Hamilton on Aug. 8, 1930, in Colorado Springs, where she spent her adolescent years. Upon her graduation from high school, she attended cosmetology school, a profession in which she spent many years. She operated her own salons in Colorado Springs, Woodland Park and Grand Junction.
In 1949, she married Paul Kleinschmidt. To this union three daughters, Anna Lee, Georgia Kay and Mary Lou, were born. Mary and Paul divorced in 1966.
After her divorce, Mary moved with her girls to Crested Butte for a couple of years before settling in Grand Junction in 1968. Mary moved to Steamboat Springs in 1975. She worked at the Hatch Saloon downtown with Marie Booth, ran the cafeteria at Energy Fuels for Bob Adams, worked at the Burger Express for Harry and Mary Dike and then managed the kitchen at the Routt County Jail until her retirement in 2000. She moved to Salt Lake City in 2001.
Mary was preceded in death by her parents and five siblings.  
She is survived by her daughters, Anna (Stajduhar), of Salt Lake City, Georgia (Hunter), of Battle Mountain, Nev., and Mary Lou (Graham), of Hayden; five grandchildren, Steven and Matthew Stajduhar, Amber Hinton, Hollie LeMarr and Elizabeth Greenwalt; and six great-grandchildren, Joshua Greenwalt, and Robert, Taylor, Charlee, Garret and Sterling Stajduhar.
Mary requested no services, and cremation has taken place.