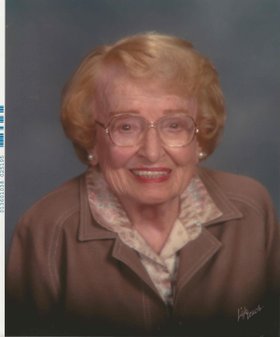 Kathleen Pearl Krider
Steamboat Springs
December 10, 1912 - September 8, 2011
Kathleen "Kay" Pearl Krider was born Dec. 10, 1912, in Waldron, Kan., to Iro Blaine Krider and Henrietta Frost Krider. She moved with four sisters to Wellington, Kan., after her mother's divorce. A National Honor Society member, she taught in rural school. She was an organist for the Methodist and Presbyterian churches. Briefly married and without children, she divorced and regained her maiden name.
Washington, D.C., became home for Kay in January 1941, when she was a clerk-typist with the U.S. Department of the Navy, interviewing civilians for the Navy's worldwide shore establishment.
Kay enrolled at The American University and received her associate degree in 1946, a bachelor's in public and business administration in 1951, and a master's in international studies in 1974, with graduate studies almost entirely on the Middle East. Kay believed the oil reserves of that area could cause serious confrontations between the U.S., its allies and the U.S.S.R.
Kay's Navy career from 1941 to 1967 included various positions, including personnel officer and industrial relations officer with duties in the Office of the Chief of Naval Operations at the Pentagon; the Canal Zone; Cuba; Jamaica; the Republic of the Philippines; Hawaii; and the Republic of Vietnam.
The Navy appointed Kay as an industrial relations officer, Headquarters Support Activities, Saigon, Republic of Vietnam, from 1963 to 1965. With minimal resources and personnel and dangerous conditions, she developed civilian personnel programs, establishing and distributing policies and procedures in English and Vietnamese. She expedited shipping supplies to the fighting front, reshaped security clearances and developed a pilot correspondence course. Kay increased her workforce to 7,000 in 18 months, crediting the people for success "due to adaptability, willingness to change and eagerness to learn."
Kay returned to Vietnam with Agency for International Development (AID) in Saigon, as an assistant personnel officer from 1967 to 1969. She developed and issued, in English and Vietnamese, AID's personnel policies and procedures. Fluent in Vietnamese, she could read, interpret and correct translations. After surprise attacks on AID offices in 1965, Kay processed injury and death forms for AID employees.
A National Life Member of Phi Delta Gamma, Kay was its national president from 1954 to 1956; president and vice president, Alpha Chapter, The American University; and was listed in Who's Who Among American Women.
Her most meaningful commendations were the U.S. Department of the Navy's Superior Service Award, 1965, and the U.S.A. Medal for Civilian Service, Vietnam, 1968. Kay was the first female personnel officer to supervise a foreign personnel program of a Navy activity and the only Navy civilian officer fluent in Vietnamese.
Steamboat became home in 1974. Kay was active in the Toastmistress Club and League of Women Voters, played tennis, golfed, hiked, gardened and introduced her sister, Jean, to skiing. She had many bridge foursomes and lifelong friendships, traveling and playing together for decades. Behind reserved appearances, she was a charismatic woman with a contagious laugh, intelligent sense of humor and an endless quest for adventure.
Kay became the longest-running volunteer in history at Bud Werner Memorial Library and was awarded the first Kay Krider Best Friend Award in 1989. Each year, a new Best Friend is chosen and their name added to the plaque displayed at the library.
She is survived by Jean K. Donaghy; Linda D. Young; Garrett Young; Michelle Rogers; Brian and Denise Bettcher; Brent and Christina Haworth; Bill and Denise Haworth; Kurt and Abby Pankau; Trudy Hinkle; James Hart; Ron Phillips; Pam and Donovan Cahill; Kelli Reese; George and Hazel Dennis; and Steve and Trudy Porter.
A memorial service is at 1 p.m. Sept. 30, 2011, at United Methodist Church of Steamboat Springs. Memorial donations can be made in Kay's name to Bud Werner Memorial Library, www.smiletrain.org or to your animal shelter.
The family of Kathleen P. Krider expresses its sincere gratitude to Dr. Louise Thielen, the staff at Doak Walker Care Center and Kay's friends and enthusiastic bridge partners for their thoughtfulness and grace.