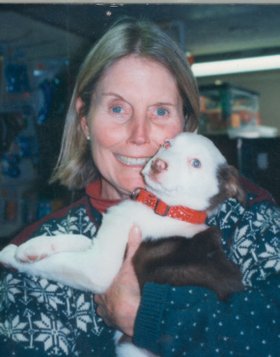 Carol "Moose" O'Malia
August 27, 1934 - August 20, 2011
Carol "Moose" O'Malia died Aug. 20, 2011, in her home following brief complications of a longstanding battle with breast cancer. She was 76.
Moose, as she was best known in Steamboat, was a unique lady who touched the lives of all who knew her. As her son, and only living family member other than her remaining two dogs, I would like to share some of the highlights of her life, focusing on her kindness and generosity, particularly with the animals of Routt County and for those who loved and cared for them.
My mother was born Carol Eileen Anne Armour on Aug. 27, 1934, in Baltimore, Md. She grew up near Baltimore and spent her childhood summers in Shadyside, a small village on Maryland's western shore of the Chesapeake Bay. She graduated from Catonsville High School in 1952 and subsequently attended the Maryland Institute of Art. Her grandparents owned a thoroughbred farm, which developed her strong love for horses, other animals of all kinds and the sport of equestrianism from a very young age.
Like many transplants to Routt County, my parents initially discovered the laid-back charm and natural beauty of the Yampa Valley during a ski vacation in the early 1970s. Less than a year later, we were residents of Steamboat Springs. Those who remember Steamboat in the '70s probably remember Mom's first business, a downtown store called Moose's Tops and Bottoms. She sold a variety of clothing as well as riding apparel and English tack. She shared her love for English riding and, along with other friends such as Leigh Whittum and Mary Brown, was instrumental in introducing the sport to the youths of Routt County. She also was fond of Steamboat's Western heritage and often was seen helping with the street events during Winter Carnival.
What Mom is best known for, however, is her selfless and eternal love for nature and animals. In the early 1980s, she opened Moose's Ark Pet Shop. Through her business, Mom reached out extensively to find homes for abandoned or abused animals. For one reason, she never actually sold puppies or kittens in the store. She refused to support the inhumane and often squalid conditions that were common among many so-called "puppy mills," breeders that supplied pet store animals en masse. Instead, she encouraged the adoption of abandoned pets from the animal shelter and reminded us constantly that more than 2,000 dogs are born every hour in the United States alone and that millions of homeless animals needlessly are condemned to death every year in this country as the result of unwanted litters.
If someone was dead-set on a particular breed, she sent them to reputable breeders who put the welfare and future of the animal before their own personal profit. She taught our youths the importance of being prepared for the sacrifice involved in caring for a pet. She taught us the importance of neutering our pets and worked extensively with local veterinarians to find neutering solutions for families of limited means. She worked extensively with the local animal shelters and promoted the adoption of these pets by advertising on radio and in the newspaper. In 1985, along with several other people, she was instrumental in the founding of the Routt County Humane Society, which strives to carry on her mission of helping animals in need to this day.
A memorial Mass was held for Moose on Aug. 30, 2011, at Holy Name Catholic Church in Steamboat Springs. Donations in lieu of flowers can be made in her name to the Routt County Humane Society.