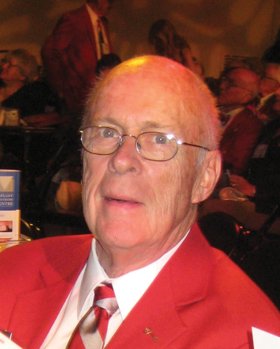 Chandler K. Coyle, 71, passed away Aug. 24, 2011, at his home in Steamboat Springs, surrounded by his family. Chandler was a devoted father, husband, grandfather and uncle. He dedicated his entire life in service to others.
Chandler was born and raised in Rochester, N.Y., and graduated from Brighton High School in 1957. Chandler earned a bachelor's degree in chemical engineering from MIT in 1961 and served for many years as the secretary of his graduating class. He went on to earn a master's in industrial management from the Krannert School at Purdue University in 1962.
Chandler was the vice president of sales for LIGHTNIN, an industrial mixer manufacturer based in Rochester. More than 10 of his technical articles on industrial mixing were published, and he was awarded with two patents for his work. In 1998, after 36 years at LIGHTNIN, Chandler retired to Steamboat Springs with his wife, Dixie.
In Steamboat Springs, Chandler continued his passion for service by joining the Rotary Club of Steamboat Springs. Chandler served as president of the club in 2005 and was the primary force and project director for construction of the Rotary Boardwalk adjacent to the Yampa River. He was a multiple Paul Harris Fellow in Rotary International and a multiple Jack Black Fellow for the Rotary Club of Steamboat Springs Endowment Fund. He was named Rotarian of the Year in 2003.
Following his year as president, he continued to remain active in several key Rotary assignments, including assistant governor of Rotary District 5440 from 2009 until earlier this year. Just prior to his death, Chandler received the Jack Morrison Lifetime Achievement Award from the Rotary Club of Steamboat Springs. It is only the second time the award has been presented since it was created to honor a Rotarian who has made a long-term, long-lasting and substantial positive impact on the world of Rotary.
He was survived by his wife, Dixie; his children, Chandler Jr., Jay, Robb and Wendy; and his grandchildren, Nicholas, Isabell and Spencer Hall, Hailey, Leah and Finn Coyle, and Anna and Molly Allsberry.
A celebration of Chandler's life is at 4 p.m. Sept. 4, 2011, at the Steamboat Springs Community Center. In lieu of flowers, donations can be made in Chan's memory to the Northwest Colorado Visiting Nurse Association's hospice program, 940 Central Park Drive, Suite 101, Steamboat Springs, CO 80487, or to the Rotary Club of Steamboat Springs Endowment in care of the Yampa Valley Community Foundation, P.O. Box 881869, Steamboat Springs, CO 80488.