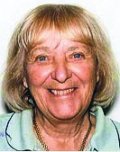 Doris M. Naske, 81, of Naples, Fla, passed away peacefully Nov. 9, 2011.
She was born June 17, 1930, in Newburgh, N.Y., to parents Henry and Maude Muthig. She gradated from Newburgh Free Academy in 1948 and married Carmen Alessi. In 1970, they moved to Steamboat Springs, where they lived and owned property. Carmen passed away in 1987, and Doris moved to Florida where she met and married David Naske in 1990. 
She was a homemaker and was a faithful member of the Everglades Community Church.
She is survived by her loving husband of 21 years, David Naske; daughter Wendy Bryant; son Kim Alessi; three grandchildren; and four great-grandchildren.
A memorial service was held Nov. 19 at the Everglades Community Church.
Memorial contributions may be made in her name to the Everglades Community Church, 101 S. Copeland Ave., Everglades City, FL 34139.