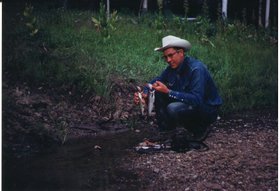 Kenneth Dwight Rhodes, 78, of Hayden, passed away June 18, 2011, at the home of Tim and Karen D. Gilroy, after struggling with a lengthy illness. His beloved wife of 50 years, Carol, was at his side.
He was born Jan. 10, 1933, to Irl Rhodes and Lola Holland Rhodes in Summersville, Mo. At the age of 6 months he moved to Hayden with his parents and brothers, Chalmer, Harold, Marvin and Billy. He grew up on the family cattle ranch and graduated from Hayden High School in 1951. After high school, Kenneth enlisted in the Army and served from April 1953 until April 1955.
After serving in the Army he returned home to Hayden and met and married Carol Ann Cote and adopted her two daughters, Karen and Glenda. On Oct. 23, 1962, their son Irl William Rhodes was born. Kenneth and his brother Billy were partners in their ranching operations, with Billy living on the original Rhodes family ranch north of Hayden and Kenneth and Carol and their children residing on their second ranch south of Hayden in the Dunckley Park area. Kenneth and Carol sold their ranch in 1992 and later resided in Craig, before Kenneth retired from his job at the Colorado Ute Power Plant near Hayden. After selling the ranch and retiring, Kenneth and Carol enjoyed 15 years of traveling in their motor home before they established a home in Yuma, Ariz.
Recently, Kenneth and Carol traveled to Hayden to celebrate their 50th anniversary and Kenneth's 60th class reunion.
Kenneth is survived by his wife, Carol; daughter Karen Gilroy (husband Tim Gilroy), of Hayden, grandchildren Tony and Sarah Gilroy, and great-grandsons Preston and Gabriel Castor; daughter Glenda Rhodes, of Craig, granddaughter Laura Oatman and great-grandson Derek; son Irl Rhodes and wife, Debbie, of Rochester, Wash., and granddaughters Bobbie Hanna, husband, Cory, and great-grandchildren Tyler and Tatum, also of Washington.
He was preceded in death by his parents and four brothers. Memorial contributions can be made in Kenneth's name to VFW Post 89 of Hayden in care of the Yampa Valley Funeral Home. For more information, call the funeral home at 970-879-1494.