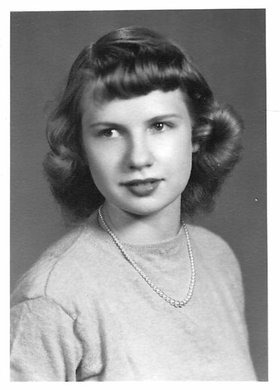 Alice B. Grover passed away on May 29, 2011, after a brief illness. Alice was born April 9, 1933 in Douglas, Wyo., to Carrie M. and Axel Henning Larson. She grew up in Douglas, graduating from Douglas High School in 1950. She then attended Cottey College in Nevada, Mo. Upon returning to Douglas, she worked for the Converse County Assessor's Office.
In 1953, she married John D. Grover. As the wife of a U.S. forest ranger, she moved often, living in Laramie, Wyo., Halsey, Neb., and Buffalo Creek, Colorado Springs, Delta and Steamboat Springs in Colorado. While living in Steamboat Springs, Alice was a Cub Scout den mother and worked part time at The Brown Book Corner, Hansen's Gifts and Del's Jewelry.
Tiring of the long, snowy winters, John and Alice moved to Fort Collins in 1991. They spent time landscaping and refurbishing their home. Alice finally had a nice place to tend her roses and took every opportunity to visit the local greenhouses and nurseries in search of just the right plant, tree or shrub.
Gardening, fishing, reading, knitting, sewing and antiques occupied much of Alice's free time, but she received the most enjoyment from caring for her family. Friends and neighbors always enjoyed receiving one of her Black Russian cakes, Swedish toffee or other baked treats. She also saw to it that the neighborhood birds and squirrels never went hungry.
Alice was preceded in death by her parents, brother Joe Larson, son Steven and husband, John. She is survived by her son Robert, of Fort Collins, sister Margaret Webb and family, of Texas, and sister-in-law JoAnne Olsen and family, of Oregon.
Alice chose cremation, and her ashes will be interred at Fort Logan National Cemetery, alongside her husband. She asks that any memorial gifts be made to the charity of your choice or to Pathways Hospice.
A service is at 2 p.m. Friday in Rolland Moore Park.