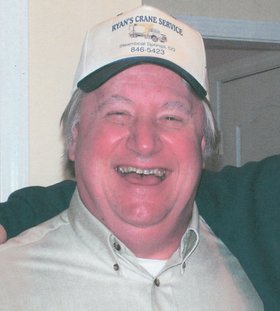 Oak Creek resident JT Thorup passed away after courageously battling cancer for three years. He was 58 years young. He was famously quoted as saying, "You can only be young once, but you can be immature forever!"
Born in Elkhart, Ind., JT was the son of William and Angeline Thorup (both deceased). He spent his childhood in Indiana; Marion, Ohio; and Livonia, Mich., before moving to Colorado. Since leaving Michigan in 1975, JT lived in Fort Collins; Shirley Basin, Wyo.; Forks, Wash.; and Steamboat Springs. JT worked for more than 15 years at Four Star Auto Repair.
During the time he lived in Colorado, he developed a passion for the area's history, becoming involved in research and being recognized for his achievements. Also while living in Steamboat, he was involved in theater and music, singing with the Mountain Madrigals and performing in numerous plays. His baritone voice was strong and booming, something he loved to use.
Recently, JT was told by a well-respected local singer that he had "a world-class voice." JT said this compliment was the "greatest professional compliment" he had ever received. His endless humor and ability to make people laugh endeared him to anyone ever having an opportunity to see him in plays. Even in everyday life, one of his greatest traits was his ability to bring humor into almost every moment. It was a trait that would bring the most special person into his life — the love of his life — Jaime James.
JT and Jaime met in 1998 and were married in 1999. Together they enjoyed traveling, hiking and cross-country skiing. Their love and caring for one another was exceptional and recognized as such by many. JT defined his relationship and marriage to Jaime as "the best thing I ever did in my life." Jaime often said she was living on "laugh therapy." She admired his hard work at home and at Four Star. She was his No. 1 fan, loving his voice and his endless humor on and off stage.
In addition to his parents, JT was preceded in death by his loving wife Jaime James and father-in-law Bill James.
He is survived by his sister, Trish Thorup, of Livonia, Mich.; his brother, Alan (Brenda) Thorup, of Fishers, Ind.; nieces Alison and Breanna Thorup; nephews Andrew Thorup and Finnegan and Claes James; mother-in-law Gloria James, of Steamboat Springs; brother-in-law Bruce (Barbara) James, of Portland, Ore.; and many wonderful friends.
A memorial service is Jan. 30, 2011, at United Methodist Church of Steamboat Springs. A celebration of JT's life will be held in June.
Memorial contributions may be made in his memory to the Steamboat Springs Arts Council, the Rollingstone Respite House or the Humble Ranch Scholarship Fund.