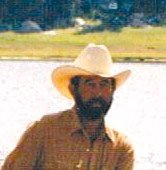 Edgar Newton Dorr
unknown - January 13, 2011
Edgar Newton "Newt" Dorr, 65, passed away Jan. 13, 2011, in Phoenix.
Passionate about living with intention here on Earth, Newt finally surrendered to a yearlong illness that had left him unable to enjoy his deepest love — the great outdoors.
Born into a large ranching family in Steamboat Springs on April 20, 1945, Newt showed a natural talent with horses and a keen interest in all things Western at an early age. It is said in family lore that Newt's first word was "horse," and he wanted to ride before he could walk. All his life he felt fortunate to have been able to spend his early years exploring the mountains on horseback, camping under the stars and fishing the high mountain lakes. Newt's lifelong love affair with the Colorado wilderness drew him back home time and time again.
Newt was drafted into the Army at age 20, and he served as a military policeman posted in Korea. When he left the military after two years, he was proud to have served his country, and he became a lifetime member of the Veterans of Foreign Wars.
He enrolled in college on the GI Bill at Colorado State University in Fort Collins, where he pursued a degree in veterinary medicine. He completed nearly two years of college before leaving school to begin what would become his life's work in construction. But before leaving, Newt met his first wife, Janice Washburn, to whom he was married for 12 years. Their son, Michael Newton Dorr, was born in 1977.
The construction business suited Newt well, as it afforded him a life out-of-doors and a flexible schedule for his various other interests, including his second "job" as a guide and outfitter in Routt National Forest. The construction business subsequently led him down a road of travel, and beginning in 1983, he lived and worked in many states, including Colorado, Utah, Wyoming, Texas, South Carolina, Florida, Tennessee and Arizona. Newt was accompanied on his adventures by his second wife, Shelley (Russell), with whom he shared his life from 1984 until his death. They eventually settled in Prescott, Ariz., where they made their home for 20 years.
Newt's heart and respiratory illness in 2009 and 2010 eventually made it necessary for him to move to the lower altitude of Glendale, Ariz., where he spent the last year of his life. At no time in his life did Newt show more courage and strength of character than he did during his final year. His final wish was to be remembered as laughing often, loving deeply and living his life fully and without regrets.
Newt Dorr was preceded in death by his father, Elmer Dorr; his brothers Jim, Ted and Mike; and one brother-in-law and two sisters-in-law. His surviving family includes his beloved wife, Shelley, of Glendale, Ariz.; his son, Michael Newton, of Tempe, Ariz.; his mother, Frances May Dorr-Wheeler, of Fruita; his sisters, Eugenie Brandhorst, Peggy Jo Carpenter and Hattie Yeager; his brothers, Bob and Fred; several brothers-in-law and sisters-in-laws; as well as many nieces, nephews, aunts, uncles and cousins.
In Prescott, a memorial service will be held Feb. 4. In Steamboat Springs, a graveside service will be held at Elk Mountain Cemetery at 10:30 a.m. July 2, 2011, followed by a reception at noon at the downtown VFW. Newt's ashes will be scattered among his favorite high mountain lakes and valleys during a pack trip scheduled for late summer. Please come and help us celebrate a beautiful life well-lived.