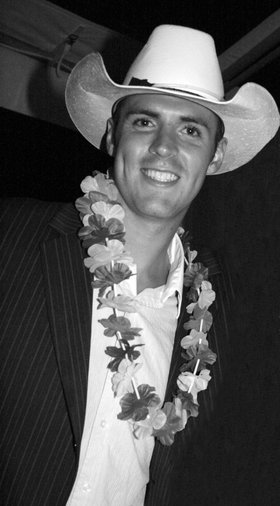 Bradley Charles Bonner passed away unexpectedly while sleeping Feb. 17, 2011, at his home in Fort Collins.
Brad was born Oct. 4, 1986, in Steamboat Springs. He was the son of Dan and Kim Bonner. Brad grew up in Steamboat and graduated from Steamboat Springs High School in 2005.
From childhood on, Brad was involved in athletics. He began skiing at age 3 and continued to snowboard as a teenager. By age 5 or 6 he was learning to skate. He played hockey from mites to the high school level. As an athlete, Brad was most accomplished as a football player, playing from youth league through high school and for a short time at the collegiate level.
Brad also enjoyed many outdoor activities, including chasing striper boils and jet-skiing on Lake Powell, camping, water skiing, snowmobiling and pick-up basketball. Brad always found great solace in the high country and enjoyed hunting for birds and elk. He had recently taken an interest in bow hunting.
During summers, Brad had been employed as an HVAC worker, and along with his brothers operated the marina at Stagecoach Reservoir. He was attending Colorado State University in Fort Collins, where he was studying accounting.
Brad maintained extensive friendships with brothers, teammates, schoolmates, cousins and many Steamboat parents. He loved getting together, whatever the reason, especially when it included grilling.
Brad leaves behind his parents; his brothers Jace and Eric; grandparents Jack and Pat Bonner, of Grand Rapids, Minn.; grandmother Virginia Sullivan, of Longmont; numerous aunts, uncles, cousins and extended family in Colorado, Minnesota and several other states. He also leaves behind his beloved basset hound, Belle.
Brad will be remembered by his family and friends for his thoughtfulness; quiet, caring nature; and remarkably contagious smile.
A memorial service was held Feb. 22, 2011, at the Steamboat Christian Center. Memorial gifts may be made to the Yampa Valley Community Foundation.
"Many a child has traveled this high to be different, trying to get from the mountain what he couldn't get from nature down below. Comes to nothing; the mountain's got its own ways. Cannot cheat the mountain, pilgrim."
— From the movie
"Jeremiah Johnson"