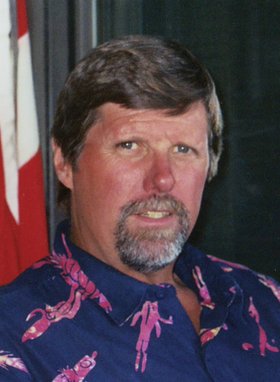 Longtime Steamboat Springs resident Gregg "Bomar" Tipton died Jan. 25, 2011, after a month-long illness. Gregg was at the Medical Center of the Rockies in Loveland when he passed quietly with his wife, Michelle Isaeff, and 16-year old son, Zeb Tipton, at his side. He was 56.
Gregg was born Oct. 11, 1954, in Hollywood, Calif. He lived in La Cresenta, Calif., until age 5 with his father, Kenneth Amestoy Tipton; mother, Nancy Jean Allen; and sister, Jill Alison Tipton.
The family then moved to La Canada, Calif., where Gregg spent a happy childhood building his keen spirit of adventure, learning a lifelong appreciation of the outdoors and playing a variety of sports — softball being his favorite. The family enjoyed outings together and Gregg developed a love for skiing, horseback riding, fishing and hunting.
Gregg became interested in scouting and eventually became an Eagle Scout. Throughout his middle and high school years, Gregg participated in scouting activities that built much of his foundation as a skilled outdoorsman. He graduated from La Canada High School in 1973. He went on to Colorado State University in Fort Collins, where he graduated in 1977 with a bachelor's in wildlife biology.
During his college years, Gregg spent summers on the Middle Fork of the Salmon River in Idaho as a river guide with River Adventures West. After college, Gregg started working at Steamboat Ski Area during his winters away from the river. He became a member of the National Ski Patrol and an EMT. Gregg had found his perfect balance of summer and winter jobs that fueled his passion for outdoor adventure.
In 1985, Gregg met and fell in love with Michelle Isaeff, his future wife. He became a fly-fishing guide for Buggywhips Fish & Float company based in Steamboat Springs. Gregg switched his focus from running whitewater to guiding fly-fishing trips.
He continued in his professions and gained notoriety as a skilled patrolman and expert fly-fisherman. In 1990, Gregg created Green River Drifters, a fly-fishing company out of Dutch John, Utah, with permits to guide float trips on the Green River. Gregg brought all his experience, skill and passion as a fly-fisherman and savvy outdoorsman to build his company into an extremely successful guide operation through the remainder of his life.
Gregg and Michelle were married Sept. 18, 1992, while on a mountain bike ride on Silver Creek Trail at Rabbit Ears Pass. Their son, Zeb Tipton, was born April 11, 1994.
Gregg was a loving husband and father. The family enjoyed skiing, fishing and rafting together and built a life around the outdoors and all the wonderful activities in Steamboat. Zeb learned a lot about camping, fishing and hunting from his dad. Zeb and Michelle were the center of Gregg's life.
Gregg built his dream life through hard work, dedication and professionalism that was apparent in all he did. Friends on Steamboat's Ski Patrol or those who knew him on the river say he lived larger than life and never hesitated to pursue the things he loved. There are few people who turn their life's passion into life work, and many who are envious of those with the drive and persistence to make it happen. Gregg did everything he loved every day; he did it with gusto and he did it well.
Gregg is survived by his loving family: wife, Michelle; son Zeb; father, Kenneth Amestoy Tipton and wife, Edna; mother, Nancy Jean Allen Beidle and husband, Leonard; and sister, Jill Alison Tipton and husband, Mike Jahraus. He also is survived by all his friends at the ski area and friends on the rivers he traveled.
A benefit for Gregg's family to help support mounting medical bills is from 6 p.m. to midnight Feb. 26 at Howelsen Hill. The tubing hill will be open, there will be food donated from four Steamboat restaurants, great music from local bands and a silent auction. There is a suggested donation of $20.
A memorial service is at 10 a.m. Feb. 27 at Olympian Hall at Howelsen Hill. Come celebrate Gregg's life and spirit with his family and friends.