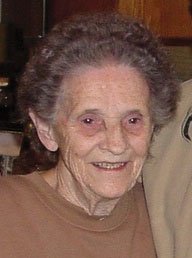 Christine Rockhill, 93, of Emmett, Idaho, passed away Jan. 27, 2011, in Salt Lake City, Utah. The second-oldest of 10 children, she was born July 25, 1917, in Eufaula, Okla., to Ebby Ariola and William Gibson. The family moved west when Christine was young, living for a while in Big Flat, Ark., and eventually settling in Yampa.
It was in Yampa that she met and married Clayton Rockhill, a native Yampa resident. In 1949, they moved their family to Western Idaho, lived for a time in Springfield, Ore., and Seattle before settling in Emmett, Idaho.
Throughout their marriage, "Chris and Clate" shared a joy of music, sightseeing and travel, always expressing awe at the splendors of nature. Their loving and devoted marriage lasted 55 years before Clate's passing in 1991. True to her nature, Chris unselfishly cared for him to the end.
Chris was well known for cooking, homemaking and gardening skills. These interests ended when, at age 74, she lost most of her vision. Despite this, she was uncomplaining and positive, keeping her mind alert by listening to books on tape and TV news and game shows.
Chris lived alone in Emmett for many years, made possible by the voluntary labor and love of friends and family like Bess Hoelzer, Jane Rockhill, Floyd and Arlene Wilson, Shirley Nelson, Laurie Stakey and others. She dearly loved and appreciated each. Her daughter and family extend heartfelt thanks to them, to Idaho's "XL Hospice" and to "Utah Hospice Specialists" and "Avenues Courtyard Assisted Living" in Salt Lake City. These teams are exemplary caregivers and truly helped Christine to pass with dignity.
Christine is survived by daughter Noni (Darrell) Thueson; eight grandchildren; 21 great-grandchildren; two great-great-grandchildren; brother Orville Gibson; and sister Virginia Sprague. She was preceded in death by husband, Clayton; son Bob (Norma); four brothers; and three sisters.
A funeral was held Feb. 4, 2011, at Potter Funeral Chapel in Emmett. In lieu of flowers, please donate to an organization dedicated to helping the blind, or to a hospice of your choice.