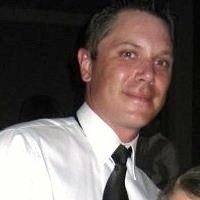 Tyler Bowen Nickey, 33, of Carlisle, Pa., died Oct. 20, 2010, at Carlisle Regional Medical Center.
Born June 1, 1977, in Carlisle, he was the son of William J. and Carel (Sheffer) Nickey, also of Carlisle.
He was known to family as Bo, to friends as Tyler and to colleagues in the music industry and fans as VJ Beatnic. As the only VJ turntablist in Central Pennsylvania, specializing in Serato, he worked locally at Alibi's, Dickinson College, Ski Roundtop and many other venues. He lived passionately, loved wholeheartedly and never gave up. He's equated to a phoenix rising.
Bo loved golfing, especially at Carlisle Barracks Golf Course with the "Golf Nuts." He also was an incredible snowboarder. He was the owner of SoulPro Entertainment. He also lived in Steamboat Springs within the past 10 years.
In addition to his parents, he is survived by sister Carrie Mailey Perry (and husband Todd); nieces Samantha, Payton, Chay and Gabby; and Leah Salvador (and husband Brandon), all of Mechanicsburg; two brothers William J. Nickey Jr., of Cold Spring Harbor, N.Y., and Kirk Nickey, of Hobe Sound, Fla., sister Laurie Nickey, of Loxahatchee, Fla.; and Aunt Sondra Alban (and husband Ralph Ferreiro), of Carlisle.
Also surviving Bo is his fiancée and soul mate, Ginger Walker, and the children he called his own, Austin, Baileigh, Alecia and Kaylee.
A celebration of life was held Oct. 25, 2010, at the Ronan Funeral Home, 255 York Road, Carlisle with the Rev. William Haken officiating.
In lieu of flowers, memorial contributions may be made to the DJ Beatnic Foundation at any Wachovia Bank branch.
To send an online condolence, please visit www.ronanfh.com.