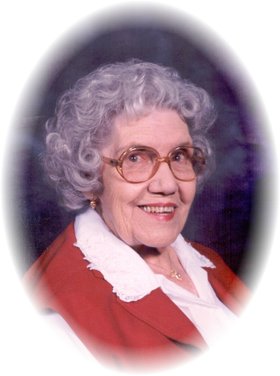 Zelma Lanora Nash, 99, of Salmon, Idaho, and formerly of Phippsburg, passed away Oct. 15, 2010, in Salmon, Idaho.
Zelma was born Jan. 30, 1911, in Fort Morgan, the daughter of Martin and Mary (Owens) Green.
She graduated from Fort Morgan High School and moved to Denver to attend Barns Business College, where she received her secretarial certificate.
Zelma was united in marriage to Elmo Nash on March 5, 1933, in Denver, and they were married 52 years. Two sons were born of this union: Irvin and Martin. They moved to Phippsburg in the early 1940s, where Elmo worked for the railroad as a station agent and Zelma was the Avon lady for 27 years. She was very active in the community, where she was the founder of the Phippsburg Bridge Club and a longtime member of the Phippsburg Community Center. Zelma enjoyed the time she spent with the Phippsburg Community Club, raising funds to pay for the streetlights in town.
In 1992, Zelma moved to Craig to be near her son. She continued to be active in their community center, playing bridge and enjoying fellowship of the Craig community.
In 2007, Zelma moved to Salmon, Idaho, with her son and daughter-in-law. Zelma was a very devoted mother and grandmother with her primary focus being the family. She made many afghans throughout the years, and many friends and family members treasure her crocheting talents. Zelma loved music and played piano for many years. She enjoyed the many musical talents that were shared at the Discovery Care Center.
She is survived by her two sons, Irvin (Carla) Nash, of Ottumwa, Iowa, and Martin (Marsha) Nash, of Salmon, Idaho; granddaughter Heather Nash-Law and her husband, William Law, of Walton, N.Y.; and three great-granddaughters, Amanda, Lanora and Katie Steinbacher, of Walton, N.Y.
She was preceded in death by sisters Fanny Owen and Mabel Krake, and husband, Elmo Nash.
Zelma's ashes will be buried next to Elmo in the Oak Creek Cemetery. Arrangements were made by Jones & Casey Funeral Home of Salmon, Idaho.