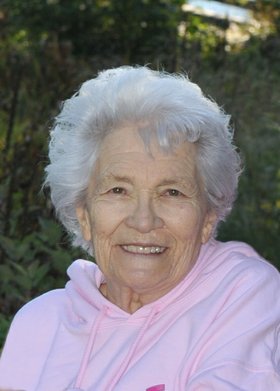 Doris Scott, 82, of Anchor­­age, Alaska, passed away peacefully in her sleep at home Oct. 14, 2010, from complications related to breast cancer.
She was born March 18, 1928, (the same day as Mickey Mouse — a fact she would always share with a laugh) in Walla Walla, Wash. She grew up in Bakersfield, Calif., and moved to Hayden, where she met and married Howard Scott. Together, they raised their three children while being successful wheat farmers, and Doris was very involved in the community. Doris was affectionately known as "Momma Dee," "Grandma Dee" and "Auntie Dee."
Doris and Howard retired to Fairbanks, Alaska, in 1994 after having visited their children there for many years of fishing, camping and enjoying the Alaska they both loved. Their children built them a beautiful home adjacent to theirs so they could be close and spend as much time together as possible.
Doris moved to Anchorage in June 2009 with her caregiver, Norrita, to be closer to her doctors and John, Cindy and Rona.
Her family said, "Mom was one in a million. No one in the world has ever been sweeter or more thoughtful than her. She was always there for her family and friends to offer a smile, a cinnamon roll, a helping hand or words of advice. She was our best friend and never judged or criticized us. She will be missed each and every day of the rest of our lives."
Doris was preceded in death by her parents, two brothers and husband, Howard. She is survived by her sons, Doug Scott and Bruce Scott, of Fairbanks; daughter and son-in-law Cindy and John Hitchcock; sister Karen Troutman, of Montrose; niece Rona Troutman, nephew Rick Troutman and family, also of Montrose; and many other nieces, nephews and friends in Alaska and Colorado. She also is survived by her six "grandkitties" with whom she spent much time and loved to spoil.
At her request, no services will be held. A celebration of her life will be held in Anchorage and in Hayden.
The family requests donations be made to Susan G. Komen Breast Cancer Foundation.