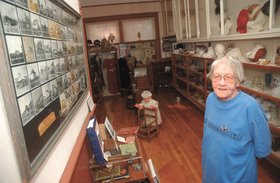 Janet "Jan" Rose Leslie was born in Steamboat Springs on Jan. 1, 1938, to Truman and Velora Musgrave Leslie. With younger brother Richard, the family moved to Meeker, Mount Harris and eventually to Hayden, where sister Nadine was born and they owned and operated the Hayden Pharmacy.
Jan graduated from Hayden Union High School and Colorado State College of Education in Greeley with a major in history. After teaching fourth grade in Yampa for several years, she returned to Hayden to do the same, for a total of 32 years.
Jan enjoyed visiting many places in the U.S. and Europe with Nadine during school vacations. Photography and the history of the area were special interests.
She encouraged an active Boy Scout troop in Hayden by serving as adviser to about 10 Eagle Scouts and worked with many of the Scouts on merit badges.
After retirement, Jan was caretaker to both parents and needed something else to do, so she began collecting information about the rural schools in Routt County, which led to much research and then to the publication of the book "Windows to Yesterday: Routt County Rural Schools 1883 – 1960" in 1998. After finding she had more history to tell, Jan and Nadine jointly published "Anthracite, Barbee and Tosh: The history of Routt County and its Post Offices 1875-1971" in 2005. In 2010, Jan and the Hayden Heritage Center created Arcadia Publishing's "Images of America: Hayden," containing 200 vintage photographs (with captions) of Hayden and the vanished coal town of Mount Harris.
Jan gathered photographs and information on several aspects of Hayden life for the Hayden Heritage Center with notebooks on obituaries of those buried in the Hayden Cemetery and businesses in the community throughout the years. She also created a historical album for the Hayden Congregational Church.
Jan was preceded in death by her parents. She is survived by brother Richard, sister Nadine and many friends who all love her and will miss her.
A memorial service was held Oct. 9 at the Hayden Congregational Church in Hayden, with Janet Babish officiating. Gretchen Hayes sang, "The Sound of Music" and "Peace in the Valley." She was accompanied by Theresa Stivers. Interment of remains followed in the Hayden Cemetery. Memorial donations may be made to the American Cancer Society in care of Grant Mortuary.