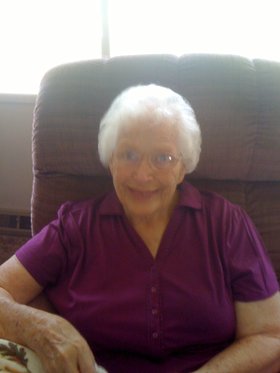 Margie Anna (Purmort) Murphy died at her home Thursday, Oct. 7, 2010. Born Jan. 30, 1924, in Rifle to the late Helen and Coney Purmort, Margie was a loving person who, in her own words, caused a commotion wherever she went.
After graduating from Rifle High School in 1942, she moved to Denver, where she worked during World War II but returned to Rifle after the war to marry Lloyd Murphy on Aug. 26, 1947. They moved to Gunnison, where Lloyd completed his degree and Margie worked at the Gunnison Champion newspaper. Though Margie loved journalism and the people she met, her intrinsic aptitude for bookkeeping was quickly recognized, and she would forever afterward joke that, "Wherever I went and whatever job I had, I ended up being the bookkeeper."
Lloyd's teaching jobs led them to Leadville, Grand Valley and then Hayden, where they raised their four daughters Sherry, Patty, Connie and Vicki. Margie worked at the Hayden Bank as — not surprisingly — the bookkeeper, but her passion and her priority was always her family. In her spare time, she taught Sunday school at Hayden Congregational Church, was a 4-H leader, sewed her daughters' clothes, reupholstered furniture, gardened and found time to spend with dear friends.
In 1973, Lloyd and Margie moved to Nucla, and with her children grown, she had the time to perfect her real talent, that of "card shark." She loved playing bridge but became quite accomplished at numerous other card games, as well.
She is survived by her four daughters and their husbands, Sherry and Vernon Kimball, of Bayfield; Patty and Rick Thomas, of Paonia; Connie and Clay Wilson and Vicki and Tim Lindsay, of Gunnison; seven grandchildren: Nicholas, Tony and Marcus Kimball, Cailey and Josh Thomas, Rylie and Scott Lindsay; one step-grandson, Rory Wilson; and two great-grandchildren, Logan and Joe Kimball.
Her family and friends loved her for her giving nature, for her intelligent wit and for her optimistic, sunny nature. Margie, you will be greatly missed.
A memorial service is at 10 a.m. Oct. 14 at Union Congregational Church in Nucla.