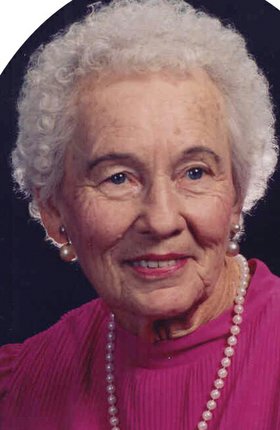 Del Choate was born July 18, 1911, and went to be with the Lord on Nov. 17, 2010. She passed peacefully into His presence after a very brief stay at Mercy Hospital. She left us after 99 years, but we have a century of memories. She was the youngest of 11 children born to Anton and Johanna Recek.
Del married her husband and lifetime mate, Henry Choate, on March 11, 1928, at age 16. They were married 55 years and resided in Merced, Calif., since 1945, operating a small dairy farm and raising sweet potatoes. In 1953, Henry and Del went to Alaska and ended up spending 28 years in Circle Hot Springs. Del worked as head housekeeper at the resort hotel as well as the mail carrier to all the outlying areas. Her life in Alaska was a true pioneer life. She was an excellent marksman and hunter of deer, moose and caribou. Henry and Del were an inseparable couple in work and play, and dancing was their joy in life.
After Henry passed away in 1983, Del spent winters in Merced and summers in Steamboat Springs with Lois Pollard and family. One of the things that gave her pleasure was playing bingo with her friends and family at the Merced Elks Lodge. When Halloween rolled around, she always dressed up in the most unique costume that Marlene made for her. She was very creative with crafts and made hundreds of Christmas ornaments for friends and family. Del was a great contributor to the Elks Lodge Support the Troops program. In honoring Del's wishes, the family has requested that in lieu of flowers, donations can be made to the Elks Lodge Support the Troops program, 1910 M Street, Merced, CA, in memory of Del Choate.
Del is survived by her daughters, Marlene Mitchell (Mitch), of Merced, and Lois Pollard (Ron), of Steamboat Springs; five grandchildren, Nanette Saunders (Robert), of Palm Beach Gardens, Fla., Denice Correia (Ron), of Auburn, Calif., Tracy Mitchell (Donald Haley), of Merced, Kim Brown (Cal), of Southlake, Texas, and Scott Pollard, of Lakewood; four great-grandchildren, Marissa Magnano (Travis) of Fort Bragg, N.C., Ryan Correia, Kaeley and Kenady Brown; and a great-great-granddaughter, Alayna Magnano. Del was loved by all and will be greatly missed by family and friends.