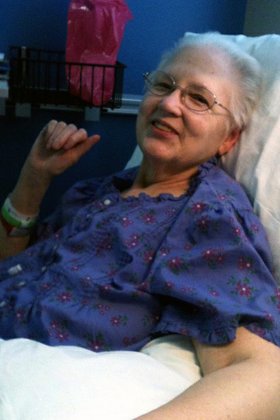 Judith Hunt Hildebrand Stanford, 67, of Elgin, S.C., died Nov. 20, 2010, after valiantly battling cancer for more than three years.
Judy was born July 21, 1943, in Richmond, Va., to Tom and Ellen Hildebrand. She grew up in Camden, S.C., and graduated from Camden High School in 1961 and attended Elon and Pfeiffer colleges. She worked at the Camden Chronicle-Independent newspaper before moving to a career in the textile industry, first at Skyline and later at the DuPont plant in Lugoff, S.C. She retired from the information technology department at DuPont.
Judy loved animals and never met a stray she wouldn't care for. Her beloved pets were family. She was a passionate reader, bringing books home by the dozen from weekly trips to the Kershaw County Library. She loved being at her home in Elgin surrounded by her books, her pets and her family.
Judy was preceded in death by her mother, Ellen Hildebrand; first husband, John Leroy Webster; and second husband, Donald L. Stanford.
She is survived by her father, Tom Hildebrand, sister, Jeanne Hildebrand and husband, Paul Weikle, and brother David Hildebrand, all of Bostic, N.C.; brother Guy Hildebrand and wife, Beth, of Tallahassee, Fla.; daughters, Tracey Forehand and Courtney McManus and her husband, Clyde, all of Lugoff; daughter Laura Stanford Smith and husband, Andy, of Loma; son, Scott Stanford and his wife, Kelly, of Steamboat Springs; and seven grandchildren, Jinsey Stanford, Brooke Forehand and Jacob Bowers, all of Lugoff; Evan Smith and Henry Smith of Loma; and Maggie Stanford and Libby Stanford, of Steamboat Springs.
In lieu of flowers, the family asks that donations be made in Judy's name to the Walter M. Crowe Animal Shelter, 460 Fair St., Camden, SC 29020.
Kornegay Funeral Home in Camden is in charge of arrangements.