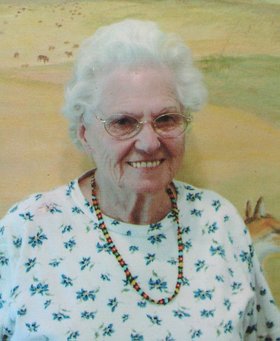 Doris "Lou" Patterson passed away peacefully in her sleep Oct. 23, 2010, at Doak Walker Care Center in Steamboat Springs. She was 91 years old.
Doris was born in Naponee, Neb., on Jan. 18, 1919, to parents Hattie and George Schnuerle. She had two brothers, Marvin and Harold. She graduated high school from Bloomington, Neb., and married Donald Van Winkle shortly thereafter. They had a son, Rodney, in 1943. They were divorced, and she moved to Steamboat. There, she met the love of her life Pat Patterson, who was one of the surveyors for what is now Steamboat Ski Area. They were married in 1967. Doris worked at Safeway in Steamboat. They moved to Wyoming for a few years and then settled in Beeville, Texas, for most of their married life. Pat was transferred to Grand Junction where they lived until his death in 1999. Doris moved to The Haven Assisted Living Center in Hayden to be closer to her grandchildren in 2001. She then moved to Doak Walker Care Center in 2008 until her passing. She was best known for her infectious smile that would warm the heart of anyone who saw it.
Doris was preceded in death by her parents and siblings. She also was preceded in death by her first husband, Donald, and their son, Rodney, but survived by Rodney's children, her grandchildren, David Van Winkle, Bryan Van Winkle and Kim Weber, as well as five great-grandchildren. She also was preceded in death by her husband, Pat, but survived by Pat's children, her stepchildren, David Patterson, Paula Olson, Kenny Patterson, Tami Steinbach and Toni Whitworth, as well as 11 grandchildren and 11 great-grandchildren. She also was survived by many nieces, nephews and cousins.
A memorial is planned in spring in Naponee. In lieu of flowers, donations can be made to The Haven or Doak Walker Care Center.