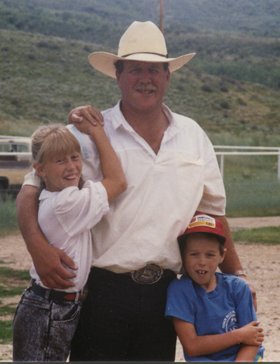 Michael William "Mike" Dorr passed away May 17, 2010, at the Yampa Valley Medical Center after a long battle with leukemia with his wife and children at his side.
The son of Elmer James Dorr and Frances May Dorr Wheeler, he was born Feb. 18, 1950, in Routt County and grew up in a large ranching family living on the Elk River in North Routt County. He was preceded in death by his father and his brothers, Thomas Edward "Ted" Dorr and James Elmer Dorr.
His early years were spent on the family ranch helping his father and brothers, rising at 5:30 a.m. to milk cows, clean stalls and feed the cattle herd with a team of horses in the winter.
At Steamboat Springs High School, he was a champion wrestler, winning the state championship in his junior year. He received a full scholarship to Colorado State University in wresting and football.
Mike was an accomplished artist, and his children and grandchildren inherited his artistic talent. Mike entered his artwork at the Routt County Fair and won a Best in Show award at a Depot art show. He painted, drew in pencil, sculpted and made cutout metal sculpture. His home is filled with many of his best works.
He worked through the years at the coal mine, in construction and excavation. He could operate any kind of heavy equipment. He especially enjoyed the several years he pioneered roads for the Badger Meadows and Red Creek subdivisions in Clark.
From the time he was old enough to hunt, Mike was an expert marksman and an avid outdoorsman. At the start of each hunting season, he knew where the herds of elk were because he had scouted their movements throughout summer and early fall. Last year, he shot a large bull elk with his grandson, Logan.
Mike was a longtime active member of the Yampa Valley Cutter and Chariot Association. He won the Colorado state championship in 1987 and was featured on the cover of Western Horseman magazine driving his team down the Howelsen racetrack in the snow. Known as an accomplished horseman, Mike loved his animals as much as they loved him.
Mike Dorr is survived by his loving wife, Rachel; his daughters, Dara Frick, of Hayden, Stephanie Kitten, of Lawrence, Kan., and Elizabeth Johns, of Oroville, Calif.; his son, Trent Dorr, of Steamboat; his mother, Frances May Dorr Wheeler, of Fruita; his brothers, Newt Dorr, of Phoenix; and Robert Dorr and Fred Dorr, of Steamboat; his sisters, Eugenie Brandhorst, of Fruita, Peggy Joe Carpenter, of Idalia; and Hattie Yeager, of Steamboat; his grandchildren, Madison and Mackenzi Frick, Logan Walz, Skylar, Colby and Kamryn Johns and Aiden and Xander Kitten; and many aunts, cousins, nieces and nephews.
His friends and family, especially his children and grandchildren, were the loves of his life. Mike worked hard and played hard. Larger than life, Mike will be greatly missed by his extensive family and all those who called him "my friend."
Donations may be made to the Carl Ramunno Youth Wrestling Fund (www.steamboatyouthwrestling.com) or the Routt County Humane Society.
A memorial service will be from 2 to 5 p.m. Sunday at Olympian Hall.