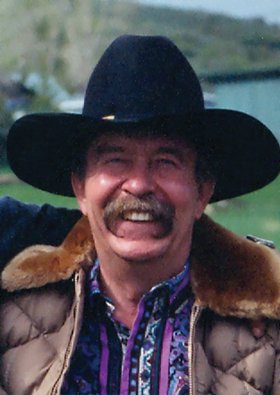 Mark Charles Hinman, age 65, died March 2 at Highland Manor in Mesquite, Nev. He was born April 4, 1944, in Denver to Edward Mark (E.M. or "Eddie") and Louise May McAllister Hinman. Mark was married to Lori Trubschenck in Las Vegas on July 3, 1970. They had two children together and were later divorced. Mark grew up in Yampa, where he attended Yampa Grade School, as well as Soroco High School. He graduated from Soroco in 1962, as the class president and "most likely to succeed." The latter was an honor he shared with his cousin Marian Hinman, whom he deeply cared for!
Mark was a cowboy in every sense of the word. He was raised on a ranch in Yampa, where he and his family ran Hereford cattle on land stretching from Yampa to Kremmling to Walden and beyond. He was certainly most comfortable on a horse, with his dog at his side … not to mention with a sidearm on his hip!
After graduating from high school, Mark chose a different path, deciding to pursue higher education at Denver University in Denver. He graduated with a bachelor's degree in 1966 and continued into law school, where he received his juris doctorate in 1969. His father and mother, both of whom were also raised on ranches in Colorado, could not have been more proud of his accomplishments at Denver University, as well as in becoming a successful attorney.
He lived most of his adult life in Colorado. Early on, he practiced law in Denver and Steamboat Springs and was also part owner of The Silver Dollar Saloon in Englewood. In the 1980s, he moved back to Yampa and lived at a place referred to as Cow Camp — a piece of the Hinman ranch land below the Flat Tops. Believe me when I say this is one of the most magnificent places on God's earth!
He retired to Logandale, Nev., 15 years ago to be with his mother and enjoy the weather and "southern" hospitality of the wonderful folks of Moapa Valley. There, he kept up with politics and the stock market; loved watching the Denver Broncos; and enjoyed spending time with his mother, his sons when they came to visit, and other family and friends he had the pleasure to be with.
Survivors include his two sons, Knight (and his wife, Marla), of Highlands Ranch; and Justin, of Denver; as well as his mother, Louise Hinman, of Logandale, Nev. He was preceded in death by his father, Ed, and his one sister, Donna Lee, both of whom he deeply cared for and missed tremendously.
Private family services will be held. Arrangements are under the direction of Moapa Valley Mortuary. Friends and family are invited to sign our online guest book at www.moapavalleymortuary.com. In lieu of flowers, the family kindly requests that donations be made to the Multiple Sclerosis Society in Mark's name.