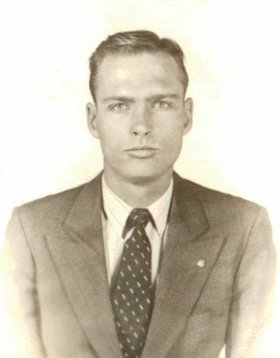 Frank "Bud" W. Rider
October 7, 1918 - March 1, 2010
Frank W. "Bud" Rider died March 1 at Family Health West in Fruita at age 91.
Bud was a man of the West. He was born Oct. 7, 1918, on the Rider family ranch on the Elk River, north of Steamboat Springs. Until his high school years, he rode a horse to school at the one-room Middle Elk Schoolhouse in Clark. Bud was a cowboy and horseman as a youth and for most of his life. As a young boy, he rode alone for days at a time for cattle. Later, at his ranch in Crawford, he fed 250 cows all winter by himself with a team of horses. Bud and his two Starduster mares were "present at the creation" of the American Quarter Horse Association, and he raced quarter horses for years.
In 1943, he married Virginia Wubben in Fort Benning, Ga., and their marriage lasted until her death in 2007. They leave three sons, Kirk (Janine) Rider, Dave (Pam) Rider and Frank R. Rider, 13 grandchildren and five great-grandchildren. Bud also leaves a sister, Carol "Babe" Mitchell, of Grand Junction.
Bud exemplified the "Greatest Generation." He crewed bombers in WWII and was a member of the "Sea Squatters," membership in which was open only to ditched U.S. airmen picked up at sea by the U.S. Navy. He built up and paid for his ranch in Crawford and his orchards on Rogers Mesa with nothing but, in his words, "hard work and good credit." He was also a great raconteur and a Bridge Life Master who traveled with his wife, Virginia, and their friends to bridge tournaments throughout the West. He was a fine driver in all conditions and liked fast cars. Bud also managed to have fun just about every day. He had a sly sense of humor and twinkling blue eyes, and he was great company whether working or playing. Men trusted and admired him, and women and small children loved him; he was not so popular with trout, deer and elk.
Life became tough for Bud after Virginia died and especially in the last few months. Through it all, he had steady and warm support from many loyal friends and wonderfully caring professional help. Cremation has taken place. A memorial service was held at St. Matthews Episcopal Church in Grand Junction on March 6. In lieu of flowers, please make contributions to Family Health West and Hospice and Palliative Care of Western Colorado.