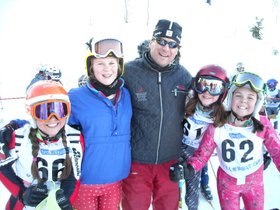 Jeff Young passed away May 3, 2010, as the result of a windsurfing accident at Three Mile Canyon on the Columbia River Gorge near his home in Hood River, Ore. He and his daughter Hannah began spending their winters in Steamboat Springs in 2005 following the sudden death of Hannah's mother, Connie, in 2003. A longtime children's ski racing coach, Jeff worked with the Steamboat Springs Winter Sports Club. His daughter Hannah, who has raced with the Winter Sports Club for the past five seasons, plans to return to Steamboat Springs each winter to continue her quest to follow ski racing as far as it will take her.
Learning to ski at the age of 4 led Jeff to a life filled with adventure. His passion for skiing, which he shared with so many young people, will live on in all of those whose lives he touched. Not only a terrific racing coach, he was himself a truly fine ski racer. His other great athletic joy was windsurfing. Among windsurfers, he was widely known as one of the best of the best.
Jeff will be long remembered for his exceptional love of Hannah, his kind and gentle spirit, superb coaching skills and powerful athleticism. Jeff is survived by his daughter, Hannah; mother Carole; father Terry (Randi); brother Scott (Nancy); many family members; and innumerable friends. A memorial service was held May 7, 2010, in Hood River and May 10 in St. Paul, Minn. Burial took place May 12, 2010, in Gladstone, Mich., where Jeff now rests beside his beloved wife, Connie.
A potluck memorial dinner with Hannah is from 5 to 7 p.m. today at Olympian Hall at Howelsen Hill. All of Jeff's friends and family are invited. Bring a main dish, salad or dessert to share.
A memorial fund has been established to help Hannah with current expenses and to defray funeral costs. Contri­bu­tions may be made to the "Jeff Young Memorial Fund" at any U.S. Bank location or by mail to U.S. Bank, 1309 12th St., Hood River, OR 97031.
The Winter Sports Club has established a special fund to assist Hannah with ski racing expenses, travel and equipment. Contributions may be made by calling Anje Worrell at 970-879-0695, ext. 125.
Facebook members are encouraged to visit the page dedicated to Jeff's memory called "Friends of Jeff Young." Please feel free to post your memories, stories and photos of Jeff.