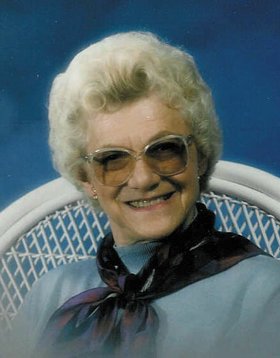 Louise Ann (Paulovich) McKenna, a longtime Craig resident, died Feb. 11, 2010.
Louise was born Oct. 28, 1925, raised on Breeze Basin and attended the Valentine School. She graduated from Hayden High School. She later moved to Denver, where she studied to become a beautician with May D&F.
This gave her opportunities to travel back east to continue studies and the chance to travel and see new things.
Louise worked at the Craig Safeway store for 28 years, retiring in 1989. She always was ready with a smile for the next customer in line and was remembered as the nice lady who worked at Safeway.
During those years, she raised three children, and later enjoyed traveling to visit them. She traveled several times to Hawaii, her favorite place, enjoying the many wonders of the island.
She always had wanted to travel to Alaska but was never able to fulfill that dream. She loved to exercise and learn new crafts and taught many how to do Swedish weaving. She enjoyed decorating her home, baking, canning, making jelly, planting flowers and buying a sweater or two.
Louise was a member of St. Michael Catholic Church in Craig, where her parents, Gasper and Louisa, were married and she was baptized.
Louise is survived by her children, Stephen, Gregory and Kathleen; husband, David Dorr; cousins and nieces. She always looked forward to visits from her niece Julie Green and her family.
Louise also had many friends locally and out of state. Louise was preceded in death by her parents, her husband, James Anthony McKenna, and her brother, Max Leon Paulovich.
The family would like to thank the staff and residents of Sunset Meadows II and Craig for the many years of care and friendship shown to Louise.
They also wish to thank the staff of the Doak Walker Care Center in Steamboat Springs for their care during the past year and the Northwest Colorado Visiting Nurse Association and Hospice for the comfort they brought.
A funeral was Feb. 16, 2010, at St. Michael Catholic Church with Fr. Randy Dollins officiating.
Celeste Sanchez sang "Abide with Me," "Crown Him with Many Crowns" and "I Know My Redeemer Lives." Pianist Rosa Lawton accompanied her.
Pallbearers were Rod Kowach, Dennis Otis, John Furman, Delbert Knez, Walt Cisar and Tony Balleck.
Interment followed in the Craig Cemetery. Memorial donations may be made to the Northwest Colorado VNA and Hospice in care of Grant Mortuary.