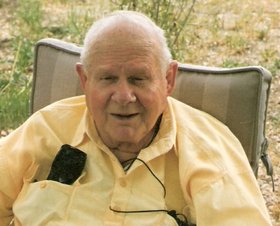 Gerald Devere Ide was born to Oris Glenn and Mary Briggs Ide on Jan. 29, 1924, in Cadillac, Mich.
He died Aug. 8, 2010, in Craig.
He was the oldest of five boys and one girl. He married Jeanne Marie Mullally on July 24, 1954. They had two children.
He was preceded in death by his parents; wife Jeanne; brother Herb; sister Norma-Jean; and grandson Adam.
Jerry Ide was accomplished in high school. He graduated second in his class, and was also the class president.
He continued his studies while in the Army Air Corp, taking navigator and weatherman training.
From there, he went to the University of Michigan, and then completed his master's degree at New York University, where he graduated in the top 10 in his class. He had earned money for college by picking cherries each summer in Traverse City, Mich.
He fell in love with Traverse City and the East Bay, where he returned to over and over again during his life.
Early on, he went to work at JC Penney's as a manager. The job took him to Highland Park, Mich., where he broke the rules and dated an employee that he couldn't get out of his mind.
He married her seven months later. The family landed in Eaton Rapids, Mich., where he had a family clothing store that he owned and operated for 25 years.
The University of Michigan was his team. He watched games with his wife, Jeanne, and his best friends, Pete and Donna. They got crazy with the blue and maize colors of the university, especially during Rose Bowl games. Some of his happiest moments were when the four of them tailgated at Michigan football games.
Jerry's family wants everyone to know about his kindness.
When he owned his clothing store in Eaton Rapids, he gave credit lines to people that he doubted would ever pay. He helped the homes filled with children through the Veterans of Foreign Wars. He was president of the Chamber of Commerce. He was sought after for mayor of the town, and in retirement, he ran a food bank in Tennessee for 12 years. He said of all the work he had done in his life, the food bank was the best.
He interviewed people for help — talking to people who lived on the street, people with addictions, people of all races and backgrounds — with kindness, fairness and compassion to all. He was kind to anyone he ran into, always. He had time to talk, always. He was never too busy for anyone.
Jerry enjoyed meeting people. He loved to be included in everything. He enjoyed life and people. There were extra people at every holiday meal. He enjoyed traveling, especially to Traverse City, as well as the time he had in Canada, India and China.
Gerald Devere is survived by his daughter, Tracy M. (Mike) Sheldon-Elzey, of Craig; son Terry J. (Shari) Ide, of Adrian, Mich.; grandsons Matthew B. Sheldon, of Craig, and Jason and Brandon Ide, of Adrian, Mich.; step-children Brett Auwaerter, of Craig, and Jennifer Auwaerter, of Houston.
He is also survived by brothers Harold Ide and Dewayne (Sherri) Ide, both of Michigan, and Keith (Jacque) Ide, of Florida. He has many nieces, nephews and cousins spread throughout the country.
His family said Jerry Ide was an example of how to live life with compassion towards others, being open-minded and fair, contributing to the community, and loving unconditionally.
His family has many wonderful memories to help them go forward. However, they will miss him deeply.