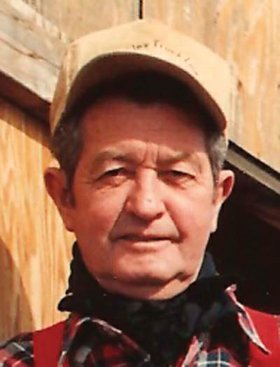 Delbert Lee Chockley
December 5, 1931 - April 10, 2010
Delbert Lee Chockley, 78, passed away in his Cañon City home April 10, 2010.
He was born Dec. 5, 1931, in Dodge City, Kan., to Harry and Thelma (Daniel) Chockley, who preceded him in death. He was young at heart and enjoyed life to the fullest.
He grew up near Westcliffe, in the foothills of the Sangre de Cristo Mountains. His wish at the end was not to have a funeral and burial but for his ashes to be scattered in the mountains where he spent his youth. The family will follow his wishes later this summer, for although we loved him very much, we are not going to walk through 4 feet of spring snow to scatter his ashes!
After graduating from Custer County High School, Delbert served in the Navy. He returned to Colorado after his service, first to Fort Collins, then Southern Colorado Power Co., and then to Fountain, where he served as city manager.
This past year, he was honored for his service to the community by being selected to serve as grand marshal in the Fountain Fall Festival parade.
In 1972 he joined Yampa Valley Electric Association in Steamboat Springs, where he worked as district manager until his retirement in 1994. After retirement, he and Cynthia moved to Cañon City.
Delbert grew up in the saddle and was a horseman his entire life, from punchin' cows to bustin' broncs in his youth, to team roping and chariot racing later in life. He loved to hunt and had a collection of vintage Savage Model 99 rifles.
He is survived by Cynthia, his wife of 43 years; his sisters Lois Estes, of Cañon City, Louise (Wesley) Colvin, of Swink, Ann (Ray) Lewis, of Buena Vista, and Leona (Gary) Hardy, of Col­oma, Mich.; five daughters, Ter­ry Chockley, of Pueblo, Peggy Rounds, of Laramie, Wyo., Lyn­nda Chockley, of Pueblo, Twi­la (Mark) Wilkerson, of San­ta Fe, N.M., and Christina (Ray) Bac­ken, of Gretna, Neb.; two sons, Tracy Chockley, of Sold­otna, Ark., and Lee (Jennifer) Chock­ley, of Brighton; and a number of grandchildren and great-grandchildren. He was preceded in death by his brother, Richard "Dick"; and a daughter, Carolyn Cay Anderson.
Friends are welcome to join the family in their Cañon City home at 2 p.m. May 17, 2010, to celebrate his life. Arrangements are handled by Holt Family Funeral Home.