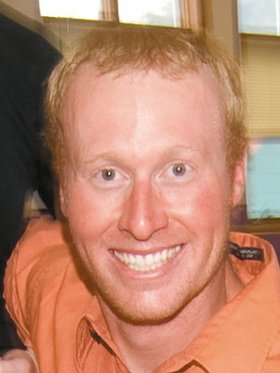 Chester Brady Meier's life was taken in a tragic construction accident in Steamboat Springs the morning of Oct. 9, 2009. He was superintendent of the Urban Renewal Project, a position he held for two years.
Brady was born Aug. 7, 1980, in Laramie, Wyo., with a smile on his face. It would be a smile that would remain throughout his 29 years.
Laramie was home to Brady while growing up. As a child, he excelled in sports, theater, music and being a goof ball. By the age of 4, he mastered the art of skiing dangerously. By 5, he began swimming competitively with the Laramie Swim Club. In addition, he was an enthusiastic baseball player and played with the Laramie All Stars in several state competitions.
Mountain biking, hiking, swimming and camping were all hobbies of his. One of his passions was pottery, and he built one of the largest wood-fired Anagama kilns in the region. He also kept watch over his younger sister and participated in the Special Olympics Swim Program and the Big Brothers/Big Sisters organization.
After graduating from Laramie High School, he worked in construction, saving money in order to ski in Lake Tahoe for a winter. He returned to the University of Wyoming where he performed theater and dance, spent two years traveling with Centennial Singers and started a Swing Dance Club called "The Swing Pokes." During this time, Brady met the love of his life, Jenny Watt.
In 2002, Jenny and Brady moved to New York City and danced professionally with Varsity Swing. On July 3, 2004, they married in Genesee and decided to make Steamboat Springs their home. In their spare time, they built their own house in Hayden and in a very short period of time established themselves in the Steamboat community through swing dance workshops, the annual dance festival and working with disabled skiers.
To all who knew Brady, he was thought of as the most unselfish and good-natured person around. His positive attitude and smiling face lit up any room he entered and made a better day for any person he encountered. He was infamous for keeping lists, posting inspirational quotes throughout the house and making everyone laugh with his outrageous sense of humor. He carried warmth, kindness and compassion everywhere he went.
Surviving Brady are his wife, Jenny; dog, Tucker; parents Mickey and Richard Uren; sister, Meghan Meier; grandparents Jess and Joyce Meier and Naomi Burgess; uncles John Uren and Larry Meier; aunt Deborah Jacobsen; cousins Meika, Cady, Chris, Tim, Heather and Jesse; and in-laws Thea, Frank, Tyler and Allison Watt.
In lieu of flowers, donations on Brady's behalf can be made to Steamboat Horizons Specialized Services. Please send donations to Yampa Valley Funeral Home, P.O. Box 776090, Steamboat Springs, CO 80477.