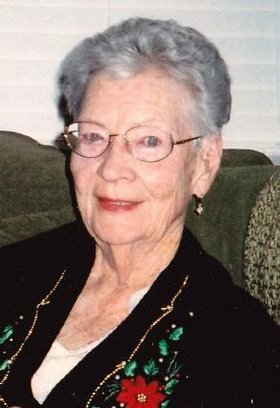 Evelyn C. Scott, 86, a resident of Mesa, Ariz., and longtime resident of Oak Creek, passed away peacefully on Sept. 30, 2009, after sustaining massive injuries in a motor vehicle accident that occurred Sept. 25.
Evelyn was a first-generation American, born to Welsh and English immigrants Thomas and Jennie Carruthers on Oct. 27, 1922, in Serene, at the Columbine Coal Co. Mine Camp. As the daughters of a miner who always sought better circumstances, Evelyn and her sister, Bobbie, moved with their parents 13 times in 11 years to various camps throughout the West. Her family moved to Oak Creek in the spring of 1938, finding a permanent and happy home. Evelyn graduated from Oak Creek Union High School in 1939 and later graduated from business school in Denver. She married Bill Scott, whose family were pioneers on Morrison Creek, at the home of his sister and brother-in-law, Helen and Gene Steele, in Steamboat Springs in January 1942, before Bill went into the Navy. During WWII, Evelyn worked in California for Lockheed Aircraft.
After the war, they made their home in Oak Creek for nearly 50 years.   
As a member of the Silver Spruce Club, Evelyn helped raise funds to build and staff the South Routt Medical Center in the early 1960s. While her daughters were young, she worked in the school lunch program, covered for the clerk at the Oak Creek Town Hall and wrote the Oak Creek news column for the Steamboat Pilot for a time. Evelyn accepted a position as clerk of the Routt County Court in 1964. After retiring from the court in 1982, she worked at the Edna Mine as a clerk for several years.   
Travel was something Evelyn always looked forward to. She visited all 50 states, Mexico, Canada, the Panama Canal, the Caribbean and the British Isles. She loved to read and also greatly enjoyed musical and theatrical productions. She was a wonderful card player and was unbeaten, as far as we know, in Trivial Pursuit and Scrabble! Above all, Evelyn loved to dance and often said that in her next life, she hoped to be a great dancer. Her heartfelt faith and belief in positive thinking helped her survive two bouts with breast cancer and also a full recovery from stroke.
Evelyn was preceded in death by her husband and her daughter, Sandra K. Scott Gunter, who passed away in 1984. She is survived by two children, Sharon Scott Merchant, of Berthoud, and Tamara Scott-Honegger, of Castle Rock; four granddaughters; five great-grandchildren; two great-great-grandchildren; and many beloved nieces and nephews.
Contributions in Evelyn's name may be made to the Historical Society of Oak Creek and Phippsburg, P.O. Box 1, Oak Creek, CO 80467. Oak Creek was home for her. She loved the beauty of the land, the flowers, trees and wildlife, the bonds made by living in a small, close-knit community, the fun of country dances and many fine Labor Day celebrations, the smell of coal smoke on a cold winter's morning, the sound of the loaded trains heading out of town, bowling leagues and card parties, times of sorrow and of joy among the wonderful people of South Routt County. Her life was enriched by the lives of miners and immigrants of many lands, her family and dear friends, and her sense of belonging in Oak Creek. A celebration of life is planned in summer 2010.