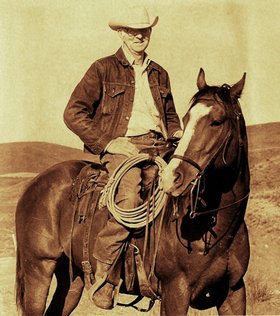 Raymond Gray
May 25, 1917 - November 8, 2009
Longtime Steamboat Springs resident Raymond Gray died Nov. 8, 2009, culminating a wonderful life of more than 92 years.
Born May 25, 1917, in Gothenburg, Neb., Raymond was the oldest of four children belonging to John and Sena (Koster) Gray. Raised on a dryland farm, he learned early the importance of strong family, hard work and thrift. His father died when Raymond was 10 years old, and his mother remarried John Baalhorn. Two more children were added to the family.
In 1939, the family moved to Northwest Colorado to escape the depression-stricken Dust Bowl. Settling into the lower Elk River Valley west of Steamboat, they found green meadows dotted with haystacks, grain fields ripening in the sunlight and cattle grazing the hillsides. It was the beginning of a love affair with the Yampa Valley.
In 1946, Raymond purchased ranch property along the Elk River. In 1949, he married Alice Paine. Together they began rebuilding the old farmstead, increasing the cow/calf, hay and grain operations, and purchasing additional ranchland.
They had one daughter, Marsha, born in 1953. Alice was an active part of the ranch and the Steamboat community until her death in 1974.
Raymond married Doris Christie in 1975, a loving relationship that lasted 33 years, until Raymond's death.
Raymond believed in giving back to the community and was active with the United Methodist Church of Steamboat, Routt County Farmers Union, Routt County Democrats and Routt County Cattlemen. He served on many boards including Steamboat Springs School Board, Yampa Valley Co-op, Routt County Soil Conservation, Farmers Home Administration and the Routt County Airport Board. He was a charter member of the Elk River Grazing Association, serving as president of the group during the entire tenure of the venture. Raymond never was shy about expressing his opinion of current regional events and often wrote letters to the editor of the Steamboat Pilot & Today.
Those who knew Raymond will remember him for his honesty, his kindness to animals and people and his sense of humor. He enjoyed the ranching lifestyle and always was grateful for the opportunities life afforded him.
Raymond is survived and will be missed by his wife, Doris; daughter and son-in-law Marsha and John Daughenbaugh; granddaughter and husband Adonna and Troy Allen; grandson Nate Daughenbaugh; great-grandchildren Leah and Levi Allen; brother and wife Jack and Dorothy Gray; sister and husband Bernice and Bob Slaight; many nieces and nephews and many more good neighbors and friends.
A celebration of Raymond's life was held Nov. 14 at the United Methodist Church. His family acknowledged their great respect for the man who taught them to love the environment and agriculture of the Elk River Valley.
Memorial donations may be made in Raymond's name to the United Methodist Church of Steamboat, PO Box 773748, Steamboat Springs, CO 80477.