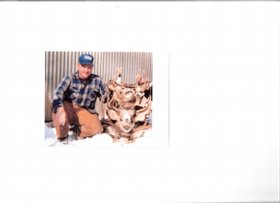 Martin Eugene Bugg
Steamboat Springs
May 16, 1967 - unknown
Martin Eugene Bugg was born May 16, 1967, to Hilliard L. Bugg and Mary Ann (Helm) Bugg in Lincoln Park, Mich. The family moved back to Steamboat Springs in 1970.
In 1978, Martin's mother married Arnold "Sonny" Lieske. They lived on a ranch four miles south of Milner where Martin learned to be a ranch kid. He milked cows, learned to drive tractors, helped build and fix fences, stacked hay and learned to work on equipment and vehicles.
He always followed Sonny around, helping or learning. He would visit Floyd Mosher's to see if he could help him, and one time a mother cow protecting her calf chased him away. He didn't know he could run so fast.
When he was in high school, Martin wanted a car, so he got a job at the co-op in Steamboat and seeded some ground for Bob Liddle. Martin took the money and bought a 1958 blue Volkswagen Bug. He soon learned how to fix and repair anything that went wrong, and he no longer rode the bus.
He shot his first elk when he was 17 years old with a .30-30 rifle. When he turned 30, he got his grandfather's hunting rifle.
Martin graduated from Steamboat Springs High School in 1986 and later traveled to Escondido, Calif., with some school friends where he did concrete work. He then spent two summers in Togiak, Alaska, working at fish canneries, fishing and learning to navigate the boat. He returned home in the fall of 1989.
In February 1990, Martin met Leslie Marie Fry and was in love at first sight. They were joined at the hip from then on.
On March 22, 1992, they were married. In 1995, they moved from Hayden to Illinois, and after a year they moved back to Hayden where they have lived since.
Martin worked at Mountain Resorts for 17 years, Fox Construction, A-1 Plumbing and Arrowhead Heating. He also did mechanic work, small-engine repair and many other trades. He could do anything.
When he was not working his full-time job, Martin could be found around town offering his skills to anyone who asked, and therefore Martin has been known throughout the community as the "handyman." With the support of his wife and his daughters, Martin started his own business, B&B Enterprises.
Martin was an outdoorsman who loved hunting, fishing, camping and singing "Cleaning This Gun" to his daughters. Martin was a loving husband, father, son, brother and friend who know no strangers and would give the shirt off his back to anyone. We cherished the time we had him with us. He was loved by all.
He is survived by his wife, Leslie, and daughters Amanda, Jennifer and Selisa, of Hayden; mother and father Arnold and Mary Ann Lieske, of Milner; Dolores, of Hayden, and Michael Orpi, of Craig; grandmother Selissa "Maxine" Pike, and her friend George Davidson, of Craig; sisters Andrea (Alvin) Luker, of Craig; Becky Pacheco, of Idaho; and Kristine (Rich) Dunckley, of Craig; stepsister Susan (Don) Mann, of Montana; stepbrothers Don (Cindy) Lieske and Shane Lieske, of Montana; Delmar Lieske, of Arizona; sister-in-law Janice (Dan) Hayes, of Hayden; Lisa (Benton) Tatum, of Canada; Michele (Josh) Lewis, of Hayden; and Andrea Orpi and Joey, of Hayden; brother-in-law Gary (Leota) Fry, of Hayden; and 11 nieces and six nephews.
He was preceded in death by sister Cathy Ann Bugg; brother-in-law Charlie Fry; aunt Shirley Sue Helm, grandfather Melvin Helm, step-grandfather Donald Pike; and father Hilliard L. Bugg.