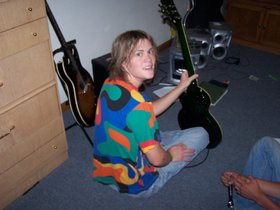 Robert John Andrew Weiss
July 6, 1989 - October 11, 2009
Robert John Andrew Weiss, 20, of Colby, Kan., died Oct. 11 in Lawrence, Kan.
Bobby was born to Robert Lee Weiss and Laura Elizabeth Davis in Steamboat Springs on July 6, 1989. After graduating from Colby High School, he attended Colby Community College and had started classes at the University of Kansas.
Bobby delighted in learning and excelled in debating. He enjoyed many outdoor sports, including soccer, skateboarding, snowboarding, skiing and hunting, but was especially fond of soccer and snowboarding. Bobby was a gifted musician and played guitar.
Bobby is survived by his father, Robert Lee Weiss; four brothers Matthew Sheridan Wheeler, Edward Canby Wheeler, Zacary William Weiss and Jeffrey Davis Vincent Weiss; grandparents Jeanne Turner Davis, Alice Weiss and Edmond Weiss; aunts Linda Jeanne Davis and Cheryl Lewis Davis; uncle Richard Ensey Davis; nieces Courtney and Kacie Marie; and a nephew, Isaiah.
A memorial service is at the Colby Methodist Church in Colby, Kan., at 4:20 p.m. on Nov. 2.
Memorial donations may be made to Farmers and Merchant Bank of Colby, Kan., for construction and development of a local skateboard park and/or A.Y.S.O. for growth and development for the nonprofit organization.
Donations can be made out to the Bobby Weiss memorial fund.