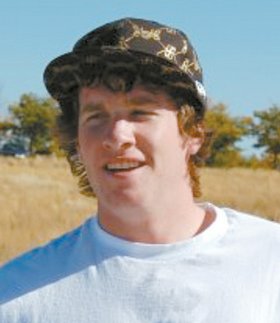 Stephen John Thomas
unknown - March 1, 2009
Our beloved son and brother, Stephen, passed away March 1, 2009. He passed from the arms of his loving family to be with his father and our heavenly Father.
Stephen was born Dec. 22, 1987, to Jacqueline and John Thomas in Grand Junction. He attended Appleton Elementary in Grand Junction. The family moved to Steamboat Springs in 1995, where he attended Strawberry Park Elementary School, Steamboat Springs Middle School and Steamboat Springs High School. He earned his high school diploma in 2008.
During and after high school, Stephen was employed as a prep chef at various businesses including the Cantina and the Tap House. He initially worked with Buck Chavarria, who introduced him to a career in the electrical field. Most recently, he was employed as an electrical apprentice at Central Electric and was working toward a career as an electrical journeyman.
Stephen was known to his many friends as "Lunchbox" and "Chongo." He was very passionate about his work-in-progress, his blue Subaru Impreza, into which he dedicated much of his time and energy. He was an amazingly talented and intense skateboarder who had his own unique style of skating and worked diligently to perfect his techniques and arsenal of tricks. He greatly enjoyed and was thankful for the deep friendships he developed with his fellow skaters and members of the community.
Stephen was a gentle soul. He had a tremendous love for his family, his friends and his pets, especially his dogs Roxie and Lily-buss. He enjoyed and was active in SK8 Church, a local youth group that focuses on having faith and developing a positive lifestyle and outlook on life.
Stephen is survived by his mother, Jacqueline (Thomas) Saari, of Steamboat Springs; and his sister, Brooke Thomas, of Tucson, Ariz. His loss will be deeply felt by his grandparents, George and Elaine Jachim, and Doris Thomas; his aunts and uncles, Mary Serge, George Jachim Jr., Patricia Jachim, Jo and Laird McBeth, Deborah, Kerry, Gina and Senya Thomas; and his many cousins.
He is preceded in death by his father, John Carl Thomas; and his grandfather, J.C. Thomas.
Services in Steamboat Springs included a viewing March 5 at Yampa Valley Funeral Home and a Celebration of Life on March 6 at Euzoa Bible Church. A funeral Mass took place March 9 at Immaculate Heart of Mary Catholic Church in Grand Junction. After the Mass, Stephen was interred in Elmwood Cemetery in Fruita. In lieu of flowers, donations can be made to Christ for Life Sk8 Church, in care of Stephen Thomas, P.O. Box 881802, Steamboat Springs, CO 80488.