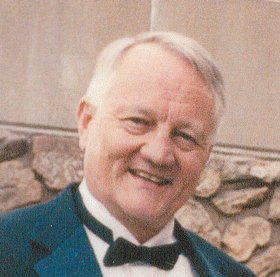 Larry Tod Lucas died June 13, 2009, after battling cancer. He was 61.
Larry was born Oct. 25, 1947, in Los Alamos, N.M., the first child of Duane Lemar Lucas and Ann Arntson Lucas.
Larry's family lived in various locations, eventually settling in Bow Mar, Colo. He was raised with two loving sisters, Karen and Debra. Larry attended Bear Creek High School, graduating as valedictorian in 1965.
He went on to the University of Colorado in Boulder, where he majored in economics. While at CU, Larry met his future wife, Penny Susan Walker.
They were married April 18, 1970, and celebrated their 39th wedding anniversary in 2009.
Larry enlisted in the U.S. Army in 1969. Upon finishing his military service, Larry completed his master's degree in economics at CU. The couple then moved to Arizona where Larry taught at Cochise College and earned his MBA at Northern Arizona University.
Matthew Tod Lucas was born May 6, 1977. The family soon moved to San Diego and welcomed daughter Erin Kathleen Lucas on June 27, 1979. The Lucases moved back to Colorado in 1980, and for the next several years, Larry taught part-time, worked in the aerospace field and cherished time with his family.
In 1990, Larry became assistant campus dean of instruction and part-time instructor at Colorado Mountain College's Alpine Campus in Steamboat Springs.
In 2003, the Lucases moved to Fort Collins, and Larry worked as a program director and business instructor at Front Range Community College through the spring 2009 semester.
Larry loved cycling, singing, playing trombone, outdoor activities and family time. He was an active member of Faith Evangelical Free Church.
Larry was preceded in death by his father in 2003. He is survived by his wife, Penny; mother, Ann; sisters Karen Melfi (Dan) and Debra Greiner (Doug); son, Matt (Megan), and daughter, Erin. He also is survived by grandchildren Alexandra, 5; Caitlin, 2; James Tod, 3 weeks; and many other devoted family and friends.
Services were held June 17 at Faith Evangelical Free Church, at 3920 South Shields in Fort Collins. A private interment was held at Grandview Cemetery. Please visit bohlenderfuneralchapel.com to view the full obituary and sign the online guestbook.