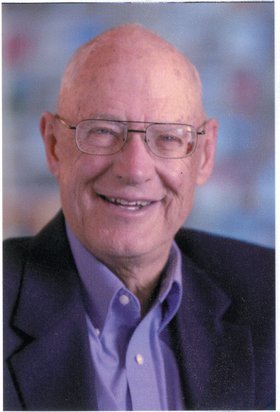 Bill Hill, beloved husband, father, grandfather and friend, passed away peacefully June 25, 2009, in Grand Junction, at his retirement home since 1998. He was 75.
Bill was born April 20, 1934, in Hebron, Neb., to William (Bud) and Ruth (Willmore) Hill. In 1952, he graduated from Hebron High School where he participated in football, tennis, drama and other school activities. He graduated from Nebraska Wesleyan University in 1956 and did graduate work at the universities of Nebraska and Oklahoma.
In college, he was a conference tennis champion, president of his fraternity, Phi Kappa Tau, and was named to "Who's Who in American Colleges."
He married Barbara Clark on March 16, 1956, in Lincoln, Neb. After graduation, he was named executive director of the Alumni Association at Nebraska Wesleyan and began 25 years of development work in various colleges and medical centers, including the University of Oklahoma; Snyder Memorial Research Foundation in Winfield, Kan.; Wesley Medical Center in Wichita, Kan.; Bemidji State University in Minnesota and Swedish Medical Center in Denver.
In 1978, the family moved to Steamboat Springs where he became executive director of the Steamboat Springs Chamber Resort Association, started the Yampa Valley Foundation and directed the founding of Colorado Mountain College's Alpine campus in 1981. He then helped establish the ski business programs at that campus; started Leadership Steamboat, a training program for young community leaders; and was active in the United Methodist Church and Rotary Club where he served as president in 1992-93. He twice was honored as Grand Marshall of the Fourth of July Parade in Steamboat.
He taught business courses at Colorado Mountain College for 16 years, was Teacher of the Year in 1987 and continued to serve as voluntary executive director of the Yampa Valley Foundation until he retired in 1997.
In Grand Junction, he founded MACHO, Men Against Cancer Helping Others, a cancer support group for men at St. Mary's Hosital; served on the convention and tourism and Habitat for Humanity boards; and was active in the Small Business Development Center, Meals on Wheels and the Presbyterian Church.
He was an excellent tennis player, an avid golfer and enjoyed traveling. He built Cow Chip Country Club, a pasture golf course at his summer cabin at Steamboat Lake, and he recently published a book, "Our Slightly Used Studebaker," a collection of 40 years of his satirical Christmas letters to friends and relatives.
Bill is survived by his wife, Barbara; children, Charley (Gwen), Jack and Lee-Ann; four grandchildren; sister, Willa (Don) Vollertsen; and many extended family members.
A memorial service was held July 1 at Monument Presbyterian Church in Grand Junction, and a celebration of life service is planned for 2 p.m. July 25 at the Steamboat Springs United Methodist Church.
A celebration of life service for Hill is at 2 p.m. Saturday at United Methodist Church in Steamboat Springs. Bill's friends also are invited to a party in his honor at 3 p.m. Sunday at his Steamboat Lake cabin and golf course, "Cow Chip Country Club." Take a potluck dish and chairs.