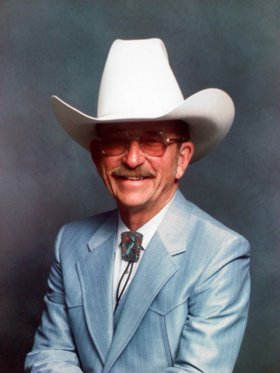 C.W. (Bill) Davis
June 12, 1915 - November 30, 2009
Longtime Steamboat Springs resident C.W. (Bill) Davis passed away Nov. 30 at Rollingstone Respite House in Steamboat Springs. Bill was born June 12, 1915, in Colorado Springs to Homer and Roberta Davis. He had two sisters, Dorthia Chamberlin and Kathrine Harwig, and one brother, Homer Davis. When he was 17, he joined the Navy and served for 30 years including during World War II and the Korean War.
After retiring from the Navy, he lived in Las Vegas for a few years where he worked as an engineer and for the casinos. In 1963, he moved his family to Steamboat to help Harwig and her husband, Attwood, run Harwig Saddlery and Western Wear.
He joined the Steamboat Springs Fire Department in 1965, and after 21 years, he retired in 1986.
After he retired, he started to live life to the fullest. He loved to fish, hunt and snowmobile. He fished just about every lake around here and then some. He would go to Canada, Alaska and Mexico for even more fishing. He loved riding his Ski-Doo in the mountains around the area, in Yellowstone and in Montana. Bill loved spending time with his children, grandkids and great-grandkids, often taking them fishing and snowmobiling.
Bill was married but later divorced, and had three children, Jeff Davis, Lance Davis and Bethany Wisecup.
Bill was preceded in death by his father and mother, Homer and Margret Davis; sisters Chamberlin and her husband, Loren; and Harwig and her husband, Attwood; and brother Homer Davis and wife, Helen.
Bill is survived by his son Jeff Davis; Jeff's children, Logan and Conner Davis, of Grand Junction; his son Lance Davis and his wife, Becky; their son, Cody; Cody's children, Corbin and Cambyll; their other son, Levon, and his wife, Kersee, all of Palisade; his daughter, Bethany Wisecup, her husband, Phil, and their children, Dakota, Darcy and Austin Wisecup, of Oak Creek. He also is survived by several nephews and nieces including Roberta Elkins, of Steamboat Springs.
A memorial is planned for noon Dec. 12 at the First Baptist Church.