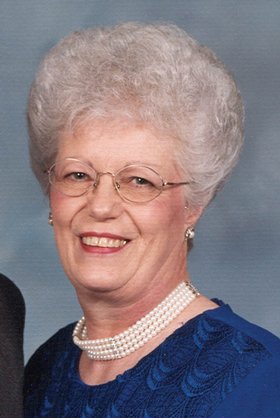 Carol Elizabeth (Pieper) Baldwin was born in Akron on Feb. 2, 1940, to Art and Della Pieper. She was the oldest of five children.
Carol's love of sewing was passed down from her mother, and further enhanced when she joined 4-H. While her siblings were busy playing on the farm, Carol was sewing up a storm alongside her mother.
Carol worked in Steamboat Springs at the local drug store to earn extra money, which marked the beginning of her passion to shop. In December 1958, the family moved to a dairy farm in Austin. Carol finished high school at Cedaredge, but she went back to Steamboat to graduate with her senior class in 1959. On June 20, 1959, Carol married Dale Werner. Carol and Dale were blessed with three daughters: Diana, Kathy and Laura.
Carol was a homemaker and an amazing seamstress. She had a passion for sewing all of her daughters' clothing, creating matching outfits and beautiful formal gowns for their proms. She also had a knack for decorating a home like no other and making any visitor feel very welcome.
Carol enjoyed being a Brownie leader and room mom for her daughters. Although being a homemaker and a mother was a large part of Carol's life, she dabbled in a little bit of everything from selling Tupperware, modular homes, cosmetics and quilts to owning several of her own businesses, including Carol's Treasure Chest and Nails by Design.
Suffice it to say she had multiple interests and hobbies. Carol's happiest years were raising her family and enjoying her circle of friends
Carol married Harold Baldwin on Jan. 12, 1991. They moved from Steamboat to Denver in 1996. They shared 17 happy years together as husband and wife.
Carol can serve as an example to all of us who knew her. Her kindness, generosity of spirit and humor will not be forgotten, nor the lesson she taught us that life is not about possessions but about family. And let us not forget her beautiful smile that would light up the entire room.
Carol is preceded in death by her husband, Harold, her brother, Leroy, and her parents, Art and Della Pieper. She is survived by her three daughters, a stepson, six grandchildren and three sisters.