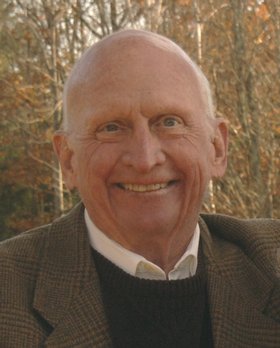 Peter D. Williamson, M.D., a world-renowned neurologist and epilepsy expert, distinguished for his pioneering work in evaluating patients for epilepsy surgery, died from cancer June 4, 2008, at his home in Lyme, N.H. He was 71.
A proud member of the Dartmouth College Class of 1958, Dr. Williamson went on to get his medical degree from the University of Southern California School of Medicine in 1963.
He completed an internship and residency in internal medicine at New York Hospital/Cornell Medical Center; a residency in neurology at Yale New Haven Medical Center; three years of military service at Walter Reed Army Institute of Research doing basic neuro-physiology research; and finally returned to Yale as a junior faculty member.
While at Yale, Dr. Williamson pioneered an epilepsy surgery program at the VA-Yale Epilepsy Center; of particular note was his successful development of intracranial depth electrodes that made it possible to record very low magnitude electrical signals from inside the brain.
After living for more than 25 years in Greenwich, Conn., Dr. Williamson moved to Lyme, N.H., in 1991. Working at the Dartmouth-Hitchcock Medical Center, he was able to expand his valuable work by creating the Dartmouth Hitchcock Comprehensive Epilepsy Center.
The center has been designated by the National Institutes of Health as one of the nation's top epilepsy referral centers.
The epilepsy center Dr. Williamson founded led to him being awarded the American Epilepsy Society's prestigious J. Kiffin Penry Award for Excellence in Epilepsy Care in 2002.
Dr. Williamson enjoyed teaching. He was a faculty member of the Dartmouth Medical School and a founding member of the medical school's Board of Overseers. He strongly felt that epilepsy surgery should be available to everybody in the world who needed it.
He initiated a strong collaboration with the University of Uruguay, lending his expertise to establish a local state-of-the-art epilepsy program. More recently, Dr. Williamson demonstrated his commitment to teaching and research by serving as chairman of the $250 million Transforming Medicine Campaign for Dartmouth Medical School and Dartmouth-Hitchcock Medical Center.
In addition to his vocational endeavors, Dr. Williamson had many other interests, including building and flying an aerobatic biplane; snow and water skiing; sailing; fly-fishing; cycling; and collecting and driving vintage automobiles. One of his antique automobiles won the Best in Show prize at the well-renowned Pebble Beach Concours d'Elegance 2006 vintage car show. Dr. Williamson also was an avid volunteer and served on numerous boards, including The Montshire Museum, The American Precision Museum and the Experimental Aircraft Association. He enjoyed spending time in Steamboat Springs, St. Augustine, Fla., and traveling to various places around the world. One of his favorite trips was to the Galapagos Islands with family and friends in 1989.
Dr. Williamson is survived by his wife Susan, of Lyme, N.H.; children Debbie Williamson of Hanover, N.H., Karen Cushnie of New Milford, Conn., Kyle Williamson of Steamboat Springs, and Doug Williamson of Hanover, N.H.; six grandchildren; and his brother, Norris E. Williamson, of St. Augustine, Fla.
A memorial service for family and friends will be held in remembrance of Dr. Williamson at his New Hampshire home June 21. Gifts in memory of Dr. Williamson may be made to one of two teams honoring him through their participation in this summer's Prouty Bike Ride: The Bradley Bunch and Team Bugattia. The Prouty is a fundraiser for cancer research and patient services at the Norris Cotton Cancer Center. To make a donation, visit www.theprouty.org or mail checks payable to Friends of NCCC, One Medical Center Drive, Lebanon, N.H., 03756.