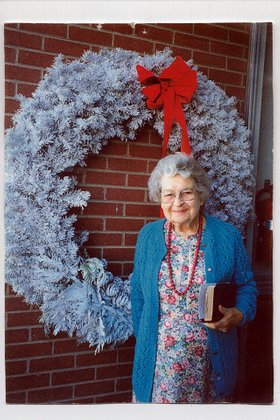 Former Hayden resident Florence Irene Welch passed away April 9, 2007. She was 99.
Florence was born in Holdrege, Neb., on Feb. 12, 1908, to Arthur Fredrickson and Anna Arvidson Fredrickson. They moved to a log cabin homestead 15 miles north of Hayden in 1909. She lived the life of a pioneer during her childhood years.
Her early school years were in a one-room country school, and she later graduated from Hayden Union High School in 1927. She attended Grand Junction Junior College and taught in one-room country schools in Routt and Moffat counties for seven years.
Florence married Kent Welch on May 26, 1934. They moved to Fort Collins in 1936, where they owned and operated a large poultry farm and egg business at 2218 W. Mulberry. Kent died in 1986.
Florence was a member of First Baptist Church, where she was active in Pioneer Girls Clubs, first as a guide and later as director for a total of 26 years. She taught Sunday school classes for 70 years, including 30 years at Columbine East Nursing Home, where she lived for the last four years of her life.
Her family and friends will miss her joyful spirit and unconditional love. Her guidance, patience, Christian values and sweet love will always be with us.
She was preceded in death by her parents; her brother, Lewis; and one son, David Arthur, in 1963.
Florence is survived by one daughter, Ruth Anna, of Boston, Mass.; four grandchildren; and six great-grandchildren.
A funeral service was held April 16, 2007, at the First Baptist Church in Grand Junction. Burial will follow at Grandview Cemetery.
Memorial contributions may be made to the First Baptist Church, 900 E. Prospect, Fort Collins, CO 80525
Please visit www.allnutt.com to view Florence's online obituary, sign the family guestbook and send condolences.