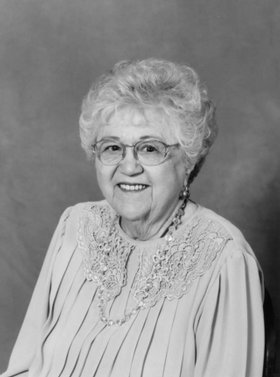 Steamboat Springs resident Frieda Newman passed away Jan. 30, 2007, at the Doak Walker Care Center. She was 93.
Frieda was born to Jacob and Elizabeth (Gettman) Kissler on Jan. 27, 1914, in Brush. She was baptized and confirmed as a member of the New York Avenue Congregational Church in Hastings, Neb.
She married Wallace John Newman on May 5, 1935.
Frieda and Wally lived in Nebraska, Washington and California before his death in 1951.
She lived most of her life in Hastings, Neb. As a single parent raising two children, she worked long hours at the Hastings Ammo Depot until it closed and then in supermarkets in the meat department.
She enjoyed spending time with her family and best friend and neighbor, Katy Lacy. She looked forward to baking and cooking for family and friends.
Frieda moved to Steamboat Springs in 1999 to be near her daughter and son-in-law, Dot and Bob Alber, and also grandchildren. She lived in the senior apartments before moving to the Doak Walker Care Center. She loved the mountains of Steamboat and looked forward to camping trips, picnics and drives in Routt County.
Frieda and her family would like to thank the nurses, doctors and staff at Doak Walker Care Center for the wonderful care, hugs and kisses she received during her stay there.
She was preceded in death by her husband; her parents; her brothers, Gustav and Melvin Kissler; and her sister, Elnora Grater.
She is survived by her daughter, Dorothy (Dot) Jane and her husband, Bob Alber, of Pagosa Springs; her son, Robert John and his wife, Judy Newman, of Grand Island; Gayle Newman of Mesa, Ariz.; two sisters, Leona Wisker of Hastings, Neb., and Linda Crow of Blue Hill; seven granddaughters, Kim and her husband, Adam Johnson, of Steamboat Springs, Tracy and her husband, Rock Premer, of Blue Hill, Rebecca Robin Alber and Rachel Alber, both of Seattle, Wash., Gina and her husband, John Dell, of Kalispell, Mont., Brenda and her husband, Nick Hansen, of Milford, Neb., Sharie and her husband, Brian Lutt, of Gilbert, Ariz.; 11 great grandchildren, Corey and Tyson Voyek, Skyler Barry, Cammeron and Taylor Premer, Alex and Allie Bondurant, Mavis and Josie Hansen and Avery and Logan Lutt.
A celebration of Frieda's life will be held May 12, 2007, at the New York Avenue Congregational Church in Hastings, Neb. She was cremated. Yampa Valley Funeral Home is in charge of arrangements.