Steamboat Springs — In the pre-dawn light of a January morning in Steamboat, with the fat flakes falling straight down, the cyclists appear randomly like wraiths. But they're really just committed commuters living a slice of the Steamboat lifestyle that appears to be growing with the emerging popularity of fat-tire bikes.
You spot a single rider on the sidewalk that borders U.S. Highway 40 between downtown and the mountain, another on Yampa Street, and a third waiting at the stoplight at Ninth Street, waiting to ross busy Lincoln Avenue.
Motorists bundled up in their heated cars and trucks feather the brakes, shake their heads in wonder and mumble, "What are they thinking about?"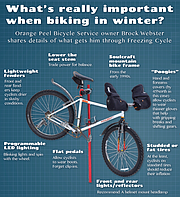 What's really important when biking in winter?
The bicycle that Orange Peel Bicycle Service owner Brock Webster depends on to get him to work in downtown Steamboat isn't fancy, it's a tool, according to its owner.
"It's the only mountain bike I'll never get rid of," Webster said.
The frame of this modified mountain bike is from the early 1990s, and it rides on studded tires that have their own set of dedicated wheels for quick changeovers.
Webster swears by studded tires and suggests that people who don't use them haven't tried them.
"It's like having a Subaru Outback and putting Blizzaks on it and all of a sudden you go, 'Oh, yeah,'" Webster said.
He also strongly recommends a helmet mounted headlamp in addition to the must-have front and rear reflectors. With a helmet mounted headlamp, Webster said, a cyclist can always turn his or head and see what they're looking at.
Ask winter bicycling commuters why they do what they do, and the answers begin with fitness and end with a commitment to leading a more sustainable lifestyle. In the big, wide middle of the trend are those who are infatuated with bicycles in all their variety. Who can resist studded bike tires?
Dedicated cyclist Rich Levy says he's been told "you're crazy" by those who can't fathom why people would ride their bike to work in winter. But if you could shadow him along the Yampa River Core trail on his usual commute to work, where vapor rises from the open water, and hoar frost crystals decorate the streamside willows, you might become a convert.
What they're riding this winter
Mindy Mulliken: The middle school teacher switches between two winter bikes. When it's not snowing, she rides a custom-painted 2010 Giant commuter bike with a handy basket. But early this winter she a used 2014 Motobecane Boris with fat tires. She finds the fat tires make it easier to navigate accumulating snow.
John Spezia: The first mountain bike made by Schwinn, to which he connects a trailer for big grocery shopping trips when he purchases something bulky like a whole case of apples
Rich Levy: Rides a converted Jamis Dragon rigid mountain bike everywhere he goes.
Ross Kirby: Currently rides a copper/gold, fat tired Salsa Mukluk, but is working on converting a tandem bike frame into a winter cargo bike by removing the rear seat and seat post to allow a set of saddle bags big enough to hold all of his hockey gear.
Steamboat Springs Middle School School math and science teacher Mindy Mulliken says her primary motivation for bicycle commuting is sustainability; her mother admires that in her, but "She also thinks I'm a bit crazy."
"It feels really good to live close enough to where you work to be able to (bike) commute, it's one of the beauties of living in a small town," she added.
Mulliken, who needs just 23 minutes to ride one of her two winter bikes to the middle school when pavement conditions are prime, and 27 to 28 minutes on a snowy days, also relishes the adventure and even the spills that come with winter bike commuting.
"I have definitely eaten it on my bike a couple times, but I like the thrill of close calls, so I don't necessarily play it safe when it's slick," she said.
John Spezia, arguably one of the most consistent year-around commuting cyclists in Steamboat Springs, says economy is one of his reasons for riding a bike more often than he takes his motor vehicle out for a spin.
You might see Spezia's 1985 Schwinn mountain bike parked behind the Routt County Courthouse, where he participates as a member of the Yampa Valley Housing Authority. Another day, you might see him pulling a bike trailer loaded with groceries on his way home. What's his motivation?
"Originally, I didn't have a car, so it was called poverty," he said. "People don't exercise enough and it's amazing what (cycling) does for your health and mental outlook. I guess it's sustainability, but there's also paying the mortgage on our houses."
Spezia's observation is that motor vehicles consume a large portion of the available income people have for the things they enjoy most in life and increase the number of hours they have to work, in order to live.
For Helen Beall, the winter of 2016/2017 has been her first winter commuting some — but not all — days, riding from her home on Spruce Street in Old Town to her job at the Yampa Valley Community Foundation in Anglers at Fish Creek. Unlike Spezia, she rides a newer fat tire bicycle.
And like Mulliken, she says sustainability is her primary motivator. Her colleagues at work encourage her for their own selfish reasons, which have to do with powder skiing.
They say "it snows more when I commute," she laughed.
Beall's 25-minute commute takes about 25 minutes along the core trail from Old Town to Freshies restaurant where she crosses Lincoln Avenue in order to take the sidewalk to Starbucks at the entrance to Sundance. The one item Beall wouldn't set out on her bike to work without, is a pair of waterproof riding pants.
"I can wear my work clothes under them, whether it's a skirt or slacks, and go from commute to computer in less than two minutes," she boasted.
Like Mulliken, Beall agrees that motorists look out for the safety of cyclists in winter.
"I think people are more considerate in the winter," Beall said. "Drivers will let you go, and they seem more willing to work with you. I only slipped once this winter, but it was on solid ice."
Levy, who rides from his home on West End Avenue to work as a ////massage therapist/// at the Steamboat Grand, rides most of that distance on the Yampa River Core Trail, all the way to the Mount Werner Road interchange. From there, another paved path leads directly to the Grand. But Levy also rides his bike to downtown Planning Commission meetings (he sits on the commission). If he could change one thing about the commute, it would be to have the Core Trail plowed daily when it's snowing.
Levy says his motivation for riding his bike is actually making the most efficient use of his time.
"I had been a winter bus rider since day one," he said. "Once I started skate skiing at Howelsen (Hill) the bus became less efficient than biking."
Levy says he considers a balaclava, which protects his neck, chin and ears under his helmet, to be a must for winter bike commuting. Mulliken agrees.
"I definitely do not leave home without my 'buff' for my face," she said. "I have a fleece-lined buff that I love and I would never commute without it. 
And one other thing – "I also have this really great helmet with a transparent visor that helps keep my glasses or eyelashes from freezing," Mulliken said.
It's all in a day's bicycle commute.
To reach Tom Ross, call 970-871-4205, email tross@SteamboatToday.com or follow him on Twitter @ThomasSRoss1