There are two things that seem to come to mind when people think of Scotland: the weather and the food.
Last summer, when we found out we were moving to Fife, the most common reaction among family and friends was: "Well, the food will be a big change from Italy!"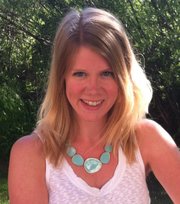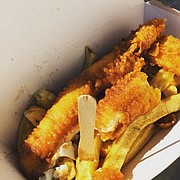 If Italian food is famous, Scottish food tends to be infamous.
There's fish and chips, steak and ale pies, sausage rolls, fried Mars bars and a whole lot of whiskey, but those are just the items with semi-familiar names. There was a lot of research and Googling involved in figuring out the local menus here.
As it turns out, black pudding is a blood sausage — nothing like what we know as "pudding" at home. A Scotch egg is a hard-boiled egg encased in a sausage with a layer of breadcrumbs on the outside, then deep-fried.
Cullen skink is a seafood chowder. Neeps and tatties are turnips and potatoes, mashed together. The "chippy sauce" we know here is native to Edinburgh and is made by combining HP steak sauce and white vinegar. And speaking of "chippies," they're French fries.
In preparation for our baby's arrival next month, I've been reading a baby book the Scottish National Health Service gives to all pregnant women. It suggests making meals ahead of time and stashing them in your freezer for when the baby is born. The two meals it recommends? Fish pie and spag bol.
Fish pie didn't sound all that appetizing to me, personally; I had no idea what "spag bol" was and had to Google it. Turns out, what they mean is: spaghetti Bolognese.
Sometimes, I think we did better deciphering menus in Italy than we do in Scotland.
But the question we get most, from both near and far, is: "Have you tried haggis?"
For those of you who aren't familiar, haggis is a traditional Scottish dish made with sheep liver, heart and lungs, as well as oatmeal, onion and all sorts of seasonings designed to make you forget the main ingredients. Traditionally, it's encased in the sheep's stomach.
My husband and I are pretty adventurous eaters, and we are also strong believers in trying the local cuisine wherever we are. We pride ourselves on the fact that we're not picky eaters and that we pretty much like everything — with the exception, we've found, of haggis.
And yes, we've tried it — multiple times, to be absolutely certain we actually do not like it. We've tried it in the morning — although breakfast is a little early to wrap your head around eating such parts of a sheep — so we've also tried in the afternoon. We've tried it plain and with ketchup. We've tried it at pubs, and we've tried it at B&Bs. We've tried it so many times, we're starting to sound like a Dr. Suess book.
No matter how many times we try it, we can't manage more than a few bites before we surrender and put the fork down. So for now, we're sticking to spag bol.
Sophie Dingle is a freelance writer, currently making the switch from living in Italy to living in Scotland. While she'll miss the pasta and wine, she's looking forward to exploring a new country and trying haggis. Sophie's husband, Ryan, is a Steamboat Springs native and professional hockey player; you can follow their adventures online at sophiedingle.blogspot.com.