Oak Creek — The majority of the Sand Point Ranch, 35 miles south of Steamboat Springs on the border of Routt and Rio Blanco counties, sold last week for $10.45 million.
About 2,200 of the ranch's 3,000-plus acres were included as part of the sale, according to Ranch Marketing Associates broker Christy Belton, who represented the seller in the transaction.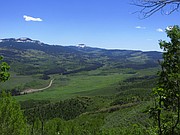 Belton described the undeveloped property off Routt County Road 25 as vacant, high quality ranching land with many of the features sought after by prospective buyers.
"It's been a traditional ranch property with cattle grazing and sheep grazing," Belton said. "I would classify it as a top-quality ranch property, and it really checked off most of the boxes you might have — some live water, long national forest boundary, year round access, fairly close to Steamboat, but also not that far from Vail."
Oak Creek flows through the property.
The ranch had been on the market since May 2013, and the full 3,000 acres of the property was listed for $12.95 million.

Belton, along with Hall and Hall broker Cody Lujan, who represented the buyers, said the sale is a promising sign for the ranch property market.
"We've had several sales recently of large acreage transactions — it's nice to have some activity in these large properties," Belton said. "It's nice to see some sales. Since 2008, it's been pretty inconsistent, and now, just within the last six months or so, we're starting to see some activity on these larger ranch properties."
Lujan said the sale reflects a demand seen locally and across the greater region.
"A sale of this size acreage is certainly demonstrative of the current demand for quality agricultural properties, both in Routt County and the state of Colorado," Lujan said.
Lujan noted good water rights, irrigated meadows and hunting and fishing opportunities remain in high demand by buyers, who he said are proving to be savvier in researching land values, thus remaining price sensitive as they consider a purchase.
Lujan declined to name the buyer, but said he was pleased to welcome them to the community.
As of Sunday, the sale had yet to be recorded on Routt County's website, making details of the buyer and seller unavailable.
To reach Teresa Ristow, call 970-871-4206, email tristow@SteamboatToday.com or follow her on Twitter @TeresaRistow