Oak Creek — It was only fitting that South Routt Elementary School kindergarten teacher Peggy Barnes called the names of the 18 graduates in Soroco High School's Class of 2014.
Photo Gallery
Soroco High School Class of 2014 graduation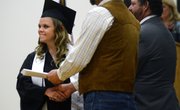 Soroco Class of 2014
Elisa Burdette Colorado Northwestern Community College, cosmetology
Bjorn Carlson United States Marine Corps
Cody Constine University of Boulder, computer science
Marley Hammer Panola College, undecided
Wyatt Harding Colorado Northwestern Community College, auto technology
Aaron Herzog Cal Poly San Luis Obispo, aerospace engineering
Andrew Herzog Undecided
Ryan Jeep Lassen College, pre-engineering
Alexis Jonas Colorado Northwestern Community College, cosmetology
Taylor Lipsie Wyotech, auto and diesel technology
Colton Martindale Workforce
Jaxon Ovard Colorado Northwestern Community College, auto technology
Ian Palyo University of Wyoming, business
Nate Ragan Workforce
Matt Regan Williston State College
Zach Reynen Colorado Northwestern Community College, auto technology
Jacey Schlegel Colorado Northwestern Community College, business
Emilee Tritz Colorado Northwestern Community College, cosmetolgoy
Barnes — a 36-year mainstay in the South Routt School District — would bark out the students' full names.
Elisa Carrie Burdett. Bjorn Laurence Carlson. Marley Sue Hammer. And so on.
Barnes sifted through the graduates' names, most of whom started their journey to the Soroco High School gymnasium Saturday by first going through her South Routt kindergarten classroom.
It's a graduating group that almost entirely will test out the tastes of college when summer wraps up. Some, like valedictorian Aaron Herzog, salutatorian Ryan Jeep, Ian Palyo, Taylor Lipsie, Matt Regan and Hammer, are leaving Colorado in search of higher education.
Herzog is off to study aerospace engineering at Cal Poly San Luis Obispo along the California coast, a prestigious school for the field. Jeep — a perennial three-sport threat during his four years on campus — also is heading to California, where he will attend Lassen College in Susanville to play basketball and baseball as well as study pre-engineering.
Palyo and Lipsie won't be far away. The two are heading north to Wyoming to study at the University of Wyoming and WyoTech, respectively. Matt Regan is bound for Williston State College in North Dakota to play baseball, and Hammer will be at Panola College in Carthage, Texas.
A good portion of the 18 graduates are heading to Colorado Northwestern Community College, such as Burdette (cosmetology), Wyatt Harding (auto technology), Alexis Jonas (cosmetology), Jaxon Ovard (auto technology), Zach Reynen (business), Jacey Schlegel (business) and Emilee Tritz (cosmetology).
Cody Constine, the quiet giant who made big noise on the football field and wrestling mat, will be at University of Boulder in the fall, where he'll study computer science.
A few others, such as Nate Ragan and Colton Martindale, are going to test out the workforce.
But only one Class of 2014 graduate is forgoing college or the workforce for the time being to serve his country as a United States Marine.
Bjorn Carlson will leave the first week of June to enlist in the Marine Corps basic training. Carlson received a large round of applause inside the packed high school gymnasium as well as a few "hoorahs" from the crowd. He is receiving an $80,000 GI bill for his service.
Jeep was the first student to speak, giving the salutatorian address. He lauded the 2014 class for being diverse and honorable and thanked them for the 12 years worth of memories. He said although he thought senior year was supposed to be the "good life," there still were plenty of hardships.
"The challenges were always there," Jeep said. "College applications, the questions of 'Where are you going to go?' and the responses of 'Oh, don't go there. It's too far from home.'"
But even abrupt endings lead to firsts, Jeep said.
Herzog drew an open question of "What exactly is the value of education?" in his valedictorian address. He was quick to point out that no matter the subject, advanced education dominates our lives, right down to the cellphones we frequently are glued to.
While Jeep reflected on the difficulty of senior year and moving on to an adult life, commencement speaker Coach Dick Dudas assured the Soroco Class of 2014 that though the simplicity of growing up may have been lost after his generation, what lies ahead should be smooth sailing.
"The path you're about to embark on now — true life — just may be a little bit easier," Dudas said. "Once you decide where you want to go, there are people who can help you."
To reach Ben Ingersoll, call 970-871-4204, email bingersoll@SteamboatToday.com or follow him on Twitter @BenMIngersoll