Steamboat Springs — This time around, there isn't any bulletin-board material the Steamboat Springs High School boys lacrosse team is using as motivation against Valor Christian.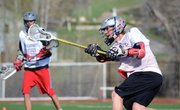 2014 Sailors boys lacrosse schedule
March 8: Steamboat 21, Glenwood Springs 0
March 14: Steamboat 10, Green Mountain 4
March 21: Steamboat 11, Telluride 3
March 22: Steamboat 10, Durango 3
March 27: Steamboat 22, Eagle Valley 0
March 29: Steamboat 15, Battle Mountain 8
March 31: Steamboat 14, Thompson Valley 11
April 4: vs. Steamboat 16, Golden 4
April 5: Steamboat 14, Cheyenne Mountain 13
April 11: Steamboat 10, Grand Junction 1
April 12: at Fruita Monument, 11 a.m.
April 18: Steamboat 15, Windsor 8
April 19: Valor Christian 11, Steamboat 10
May 1: Steamboat 13, Summit 2
May 3: Aspen 16, Steamboat 13
STATE PLAYOFFS
May 6: Steamboat 14, Conifer 4
There's no need for external motivators, big pre-game speeches or even avenging a humiliating YouTube video.
For the third time in less than 13 months, the Sailors are playing the Eagles, who have knocked off Steamboat the past two times around.
Round 3 presents a different prize, something bigger than any win streak or securing home-field pride can offer.
The winner of Round 3 gets a berth to the state semifinals — the Final Four of Colorado high school lacrosse.
"I'm not looking to play for revenge anymore," Sailors senior goalie Kaleb VanArsdale said during Thursday's practice. "It's more about getting to the semifinals now."
The Sailors (14-2) don't need to be reminded how the past two contests have gone against Valor, both 11-10 losses — one at home in 2013, and one on the road three weeks ago. Both were equally disheartening.
But even more disheartening — for both squads — is how the playoffs unfolded this time a year ago. Each team made the Final Four, a win away from facing each other in the finals. The Sailors' season ended against Air Academy, 6-4, and the Eagles went home after a 13-5 loss to eventual state champion Wheat Ridge.
The Sailors' morale is different this year, VanArsdale and first-year coach Jay Lattimore said. With a steady group of seniors and a team that was humbled a bit in the regular-season finale, Steamboat is hoping to get through Valor and get another shot at a different kind of revenge in the Final Four.
"You can't do something you've never done before by doing the same things you've always done," Lattimore said. "They've been to the quarters before and the Final Four before. To be able to make it to the next level, they have to work harder and be more focused than they ever have."
And the group has done just that, the coach said, at least as much as it could have since knocking off Coniferon Tuesday night at home to advance past the playoffs' first round.
They've watched film and held full-contact practices, anything to get in game mode for easily the biggest contest of 2014. Lattimore is hoping the last-minute X's and O's complement what he calls a very mentally sound group heading into the quarterfinals.
"I think they're a little bit more focused this year and they're a little bit more excited, which is great to see," Lattimore said. "They keep telling me that, at least. It's good they feel that way, because that's what we need."
For Steamboat's tight-knit group of seniors, the cohort is hoping the Thursday night faceoff, which starts at 6 p.m., isn't the final time it gets some practice reps in as Sailors on Gardner Field.
Sure, hosting Valor (12-4) on Friday night would be even sweeter than a 3 1/2 hour bus ride to Highlands Ranch. But a win locks in at least a few more drills under Lattimore's watch on their home turf, and if the quarterfinals can't be at home, there's always a second-best option.
"They'd love to be home, of course," Lattimore said. "But if there is anywhere else to play in the state right now, I think they'd rather go to Valor and have a chance to advance to the Final Four and send them home."
To reach Ben Ingersoll, call 970-871-4204, email bingersoll@SteamboatToday.com or follow him on Twitter @BenMIngersoll