Steamboat Springs — Had the Steamboat Springs High School boys lacrosse not needed Gardner Field immediately for practice on Friday night, Jordi Floyd, a sophomore on the Sailors' girls soccer team, might still be there, hugging and smiling, high fiving and celebrating.
"The most hugs ever," she said, grinning wide moments after she gave her team a double-overtime boost it desperately needed.
Photo Gallery
Steamboat girls soccer vs. Fruita-Monument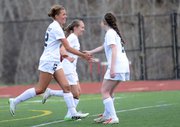 2014 Sailors girls soccer schedule
March 6: Steamboat 1, Summit 0
March 8: Battle Mountain 5, Steamboat 0
March 13: Steamboat 4, Eagle Valley 1
March 15: Palisade 1, Steamboat 0
March 21: Eagle Valley 3, Steamboat 2
March 22: Grand Junction 7, Steamboat 2
March 29: Battle Mountain 4, Steamboat 0
April 2: vs. Fruita Monument, canceled
April 5: Steamboat 6, Delta 0
April 8: Steamboat 6, Summit 0
April 12: Wheat Ridge 3, Steamboat 0
April 15: Steamboat 4, Glenwood Springs 0
April 17: Steamboat 7, Rifle 0
April 29: Steamboat 3, Glenwood Springs 0
May 2: Steamboat 2, Fruita 1
Steamboat was on the bubble to make the 32-team Class 4A playoffs before Friday night's game against Fruita-Monument. Then Floyd lifted the squad with a jaw-dropping roundhouse kick into the back right corner of the goal with one minute remaining in the second and final overtime, greatly adding to the team's case that it should be included.
The goal gave the Sailors a 2-1 victory and ended a thrilling back-and-forth game that left fans, players and coaches exhausted and positively played and cheered out.
"Being able to get this result in a tight game really defines this group," Steamboat coach Rob Bohlmann said.
Floyd's strike was the perfect end, especially in Steamboat's eyes, for an exhilarating game. Natalie Bohlmann put the Sailors up just four minutes in, scoring on an assist from Alice Holmquist.
Steamboat controlled the game for much of the rest of the first half, but Fruita came on strong in the second. Only goalie Ocoee Wilson — "incredible tonight," by Floyd's assessment — kept Steamboat on top. She deflected one freekick high, just over the net, then swallowed up several other potential equalizers.
One finally got through, however, Fruita's Sarah Benton scoring in the 68th minute.
The Wildcats nearly won it with several other opportunities, including a crossing shot that was just — JUST — out of reach for a sure goal inside the final minute of regulation.
They nearly took care of business in overtime, too. Wilson dove for a shot, just missed midair, then was saved as the ball clanged loud and hard off the post.
Steamboat, too, had its chances in OT, including one when the Fruita goalie was beat and out of the play. Three point-blank shots deflected off the Wildcats' madly scrambling defenders.
It was Floyd who finally ended things, and on a play where there didn't seem to be much opportunity. A Mackenzie Gansmann shot deflected off the Fruita goalie, but bounced up and spun back landing right beside Floyd, the only Steamboater of the four in the area. She spun around on a heel, kicked high and drove the ball across the goal.
"That's the most important goal I've ever scored," she said, still grinning. "We wanted this game so badly."
Her move set off a wild celebration in the stands and on the sideline even as the ball still was burying into the net.
"Vote Jordi for everything!" one teammate shouted. "Prom queen! President!"
She had no shortage of support Friday. Convinced they'd just punched their playoff ticket, the Sailors rushed the field, mobbed Floyd and began what would be a long night of hugging.
Steamboat, 9-6, will find out for sure whether it makes the playoffs when the bracket is released Sunday.